Public Art/Sing for Hope Pianos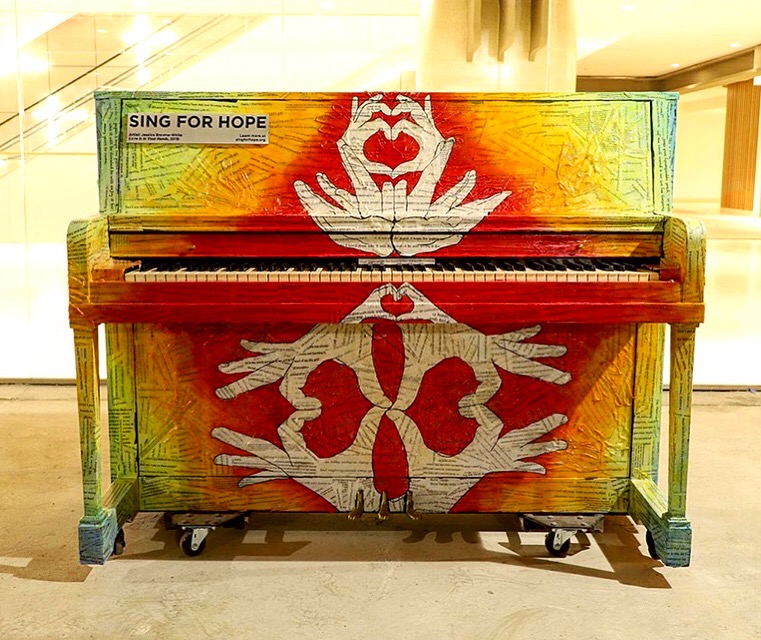 "Love is in Your Hands" is a homage to the artists and staff of Sing for Hope who have been my second family and creative home for the past 7 years. This piano was created to give physical form and substance to the love, talent, and generosity of all the people who make this project possible year after year. In retrospect, I realize I created an organizational BIO (Body/Image/Object) with this piano - a piece that makes the body, heart, and soul of this amazing organization visible and tangible.
Process - Layers of Love
The first step was connecting with and interviewing current and former piano artists and staff. I asked those willing to participate to respond to the following questions:
1. Please spend some time thinking about your relationship to your hands as a medium/conduit of expression and connection. Please describe that relationship and how you use/view/feel about your hands and how they give to and receive from your artwork, your relationships, and/or the world at large.
2. From this hand/heart connected space - What do/did you hope to give to people through your piano/s?
3. From this hand/heart connected space - What did you receive (or what do you hope to receive) from the experience of creating your piano/s and their time on the streets (and life in schools and other orgs after)?
I collected their written responses and these musings on hands and their connection to creativity, gift giving and, ultimately, love, became the base layer of the piano. Fragments of all the responses were paper-mached to the piano - covering every piece of it with their memories and musings, hopes and desires - their love.
Step two was gathering hand impressions. Each person who wrote a response (and some who did not) had their hand impressions cast in acrylic medium. These mostly transparent, textural hand impressions became the next layer. I attached the hands in overlapping wave and heart patterns around the piano.
Step three was using my own hands to create layered mudra-like central images - hands creating hearts and lotus -like imagery. These images were transferred to the piano and then painted in a rainbow of sunset colors radiating from the central images. The vibrant color was built up in many near-transparent layers in order to maintain the ability to read the text beneath.
The responses, and this piano, ultimately boiled down to love in action – a desire on the part of artists and staff to give moments of love, joy, hope, belonging, and possibility to all. This piano is made of layers of that love – their words, their hands, and images of hands creating symbols of love, surrounded by radiant color. May the love we express through our hands help you see the love you have in yours.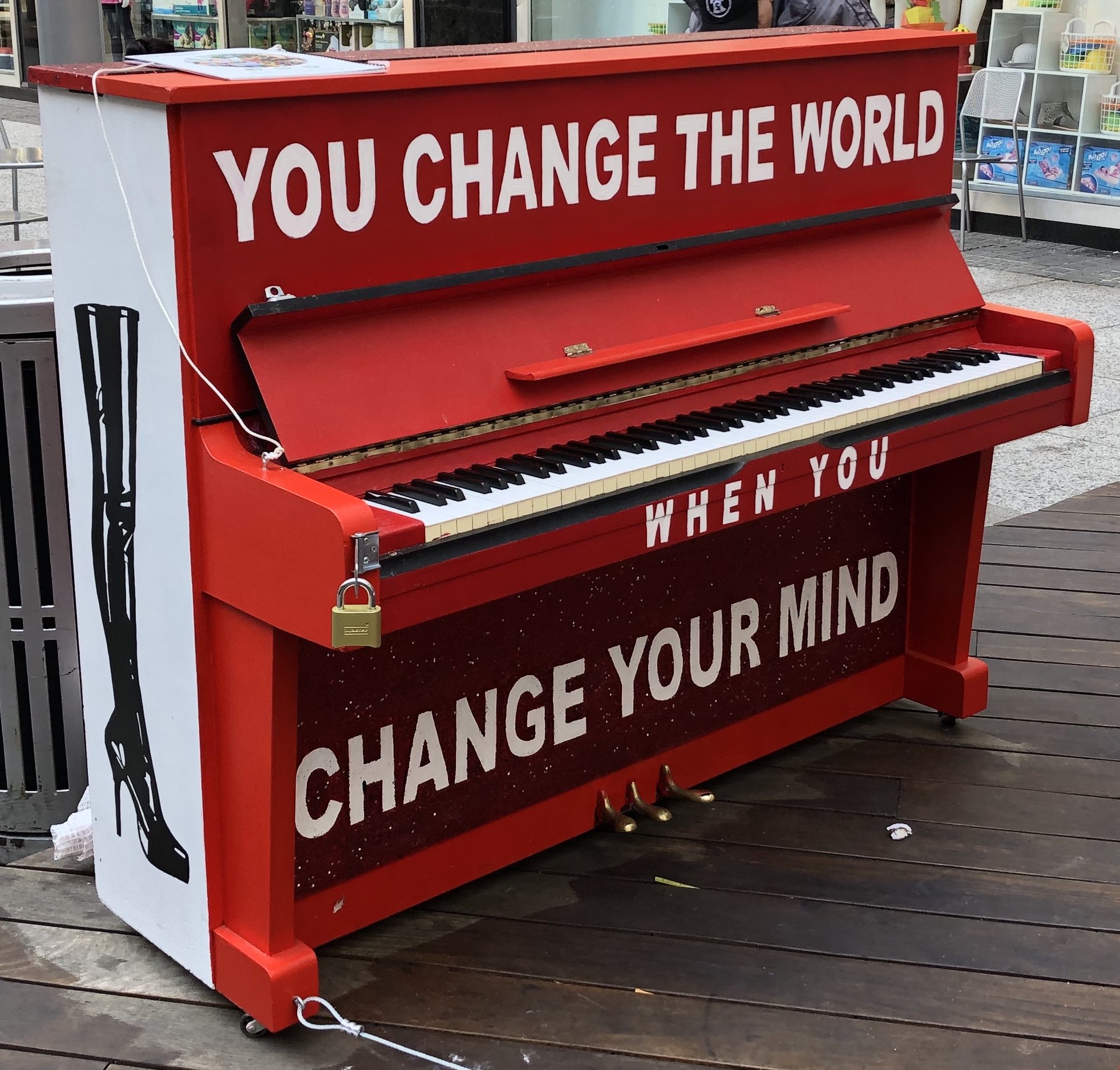 "You Change the World When You Change Your Mind"
2018 Sing for Hope Piano
I was excited and honored to be asked to help the cast and crew of "Kinky Boots" create their 2018 Sing for Hope Piano. With this piano The Broadway cast of KINKY BOOTS invites everybody to ""Let Love Shine."" I love the message of this piano and it was very appropriate given the massive life changes I have been experiencing lately - all due to changing my mind about what is possible - for myself and the world. Thank you do much to "Kinky Boots" and Sing for Hope for the opportunity to create this piano and spread these messages of love, and the potential to change, with New York City.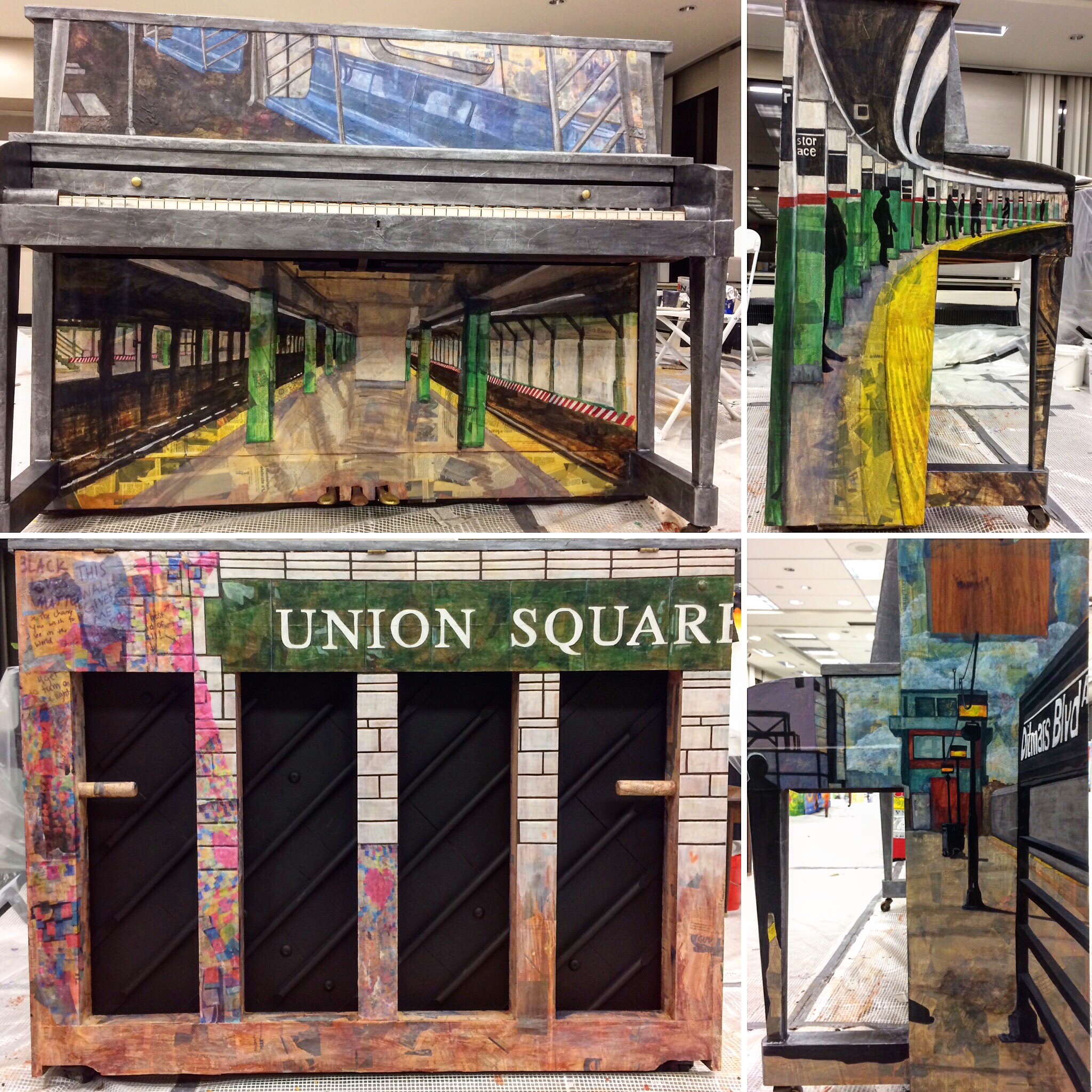 "To New York With Love In Loss"
2017 Sing for Hope Pianos
This year I wanted to create a piano that acts as a love letter and homage to the NYC subway. I've been in love with the NYC subways since I moved here 8 years ago. I think it perfectly represents the energy, diversity, and amazing mixture of history-laden solidity and the constant change and fluidity of NYC. Using multiple materials (including collaged newspapers, acrylic photo transfers, paint and drawing techniques) I created a somewhat surreal and disjointed world that highlights the labyrinthine architectural world of the subway system- tunnels, platforms, and trains - with a mix of realistic and abstracted people/portraits layered into this landscape. Found text (in the form of New York Times articles and advertisements from June 2016 and February 2017, subway advertising, and pieces of the post-election, subway therapy post-it wall) is layered under and into the piece as well.

I initially wanted to capture the diversity of the people who rely on this transportation system and how it can create both intimacy and anonymity. However, given current events - which for me were full of personal and national loss - I found myself imagining what these spaces would look like without all of us and the emptiness and decay that would result from our absence. I found myself painting empty stations and trains filled only with shadowy figures overlaying stories and images of a bustling and turbulent metropolis. Some sections are clear cut and unflinchingly realistic while others blur and shift, allowing the viewer to fill in the gaps in the visual story.

If you wait and watch, you will find all of humanity in the NYC subway. It is glorious, ghastly and everything in between, and I wouldn't have it any other way. I created a piece that lets us reflect upon NYC as personified by this shared space and to recognize that all of it - the good, the bad, and the indifferent - is what makes us who we are - vital, flawed, and necessary.
For those of you interested in the evolution of the piece, here is a slideshow of the progress pics I took throughout the process. When the piano hits the streets in June I'll add street pics. Enjoy!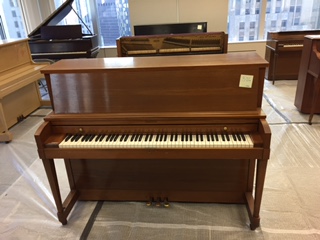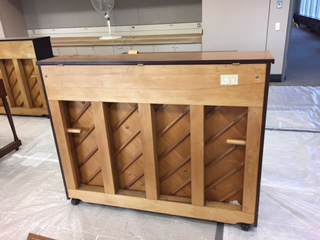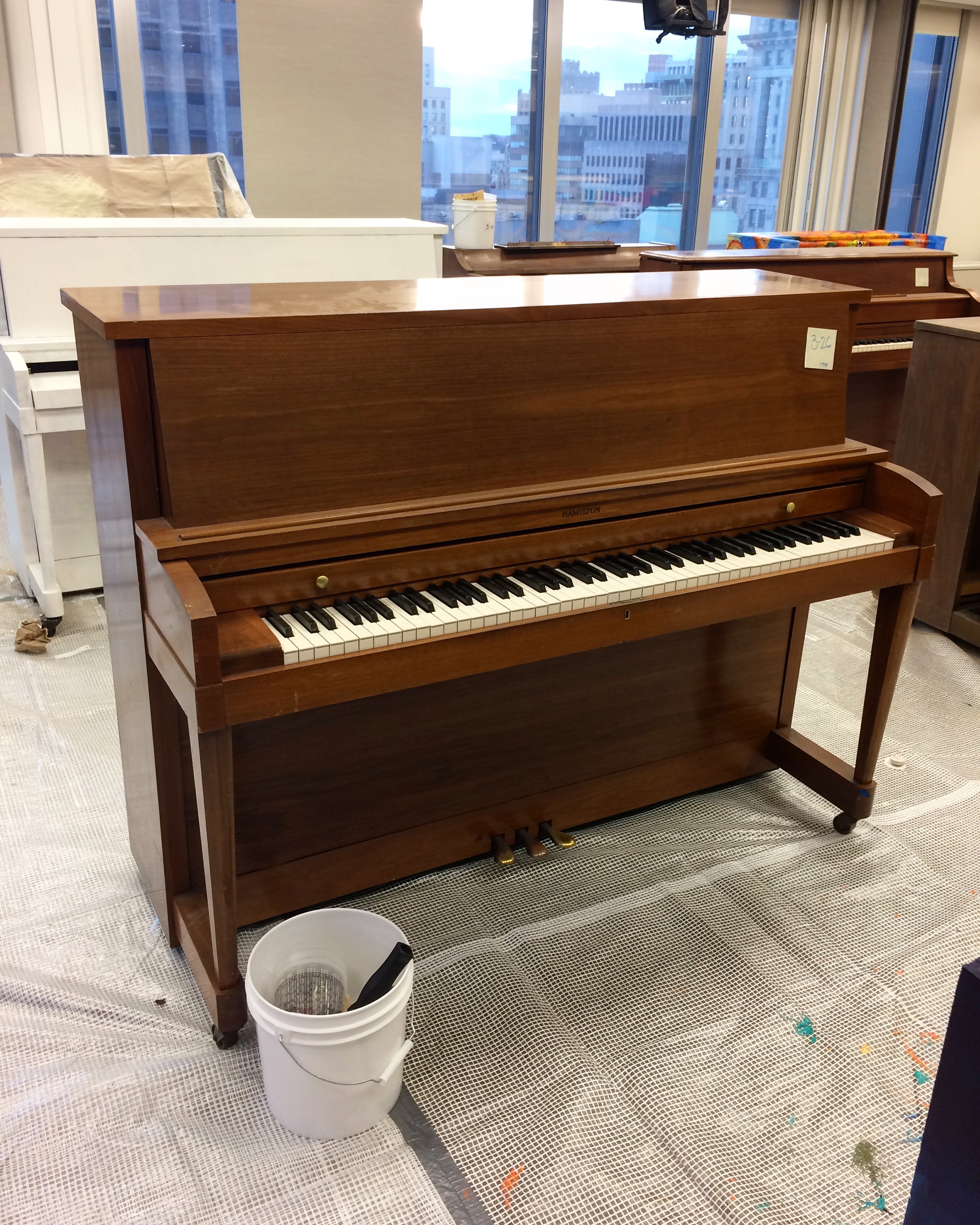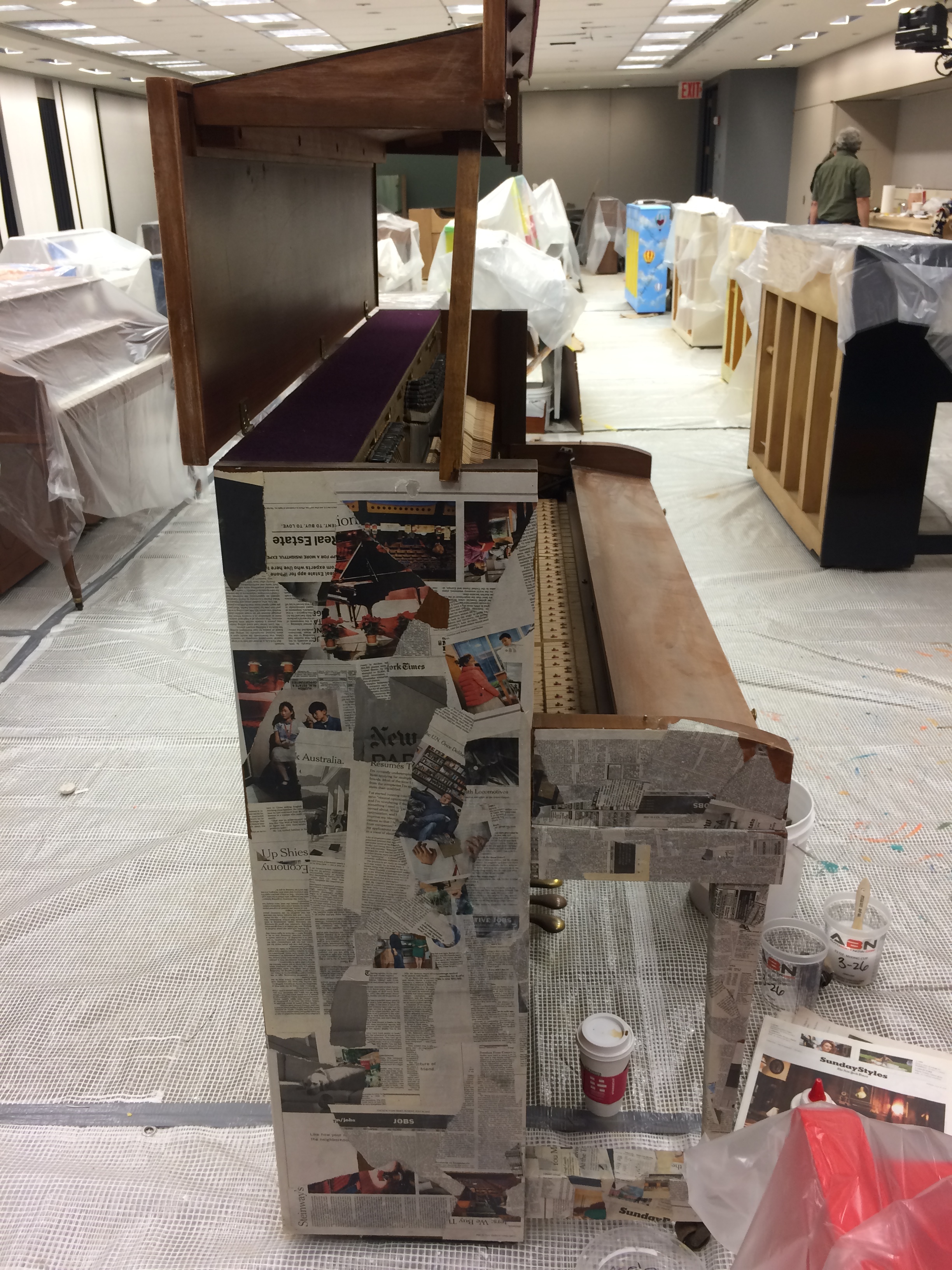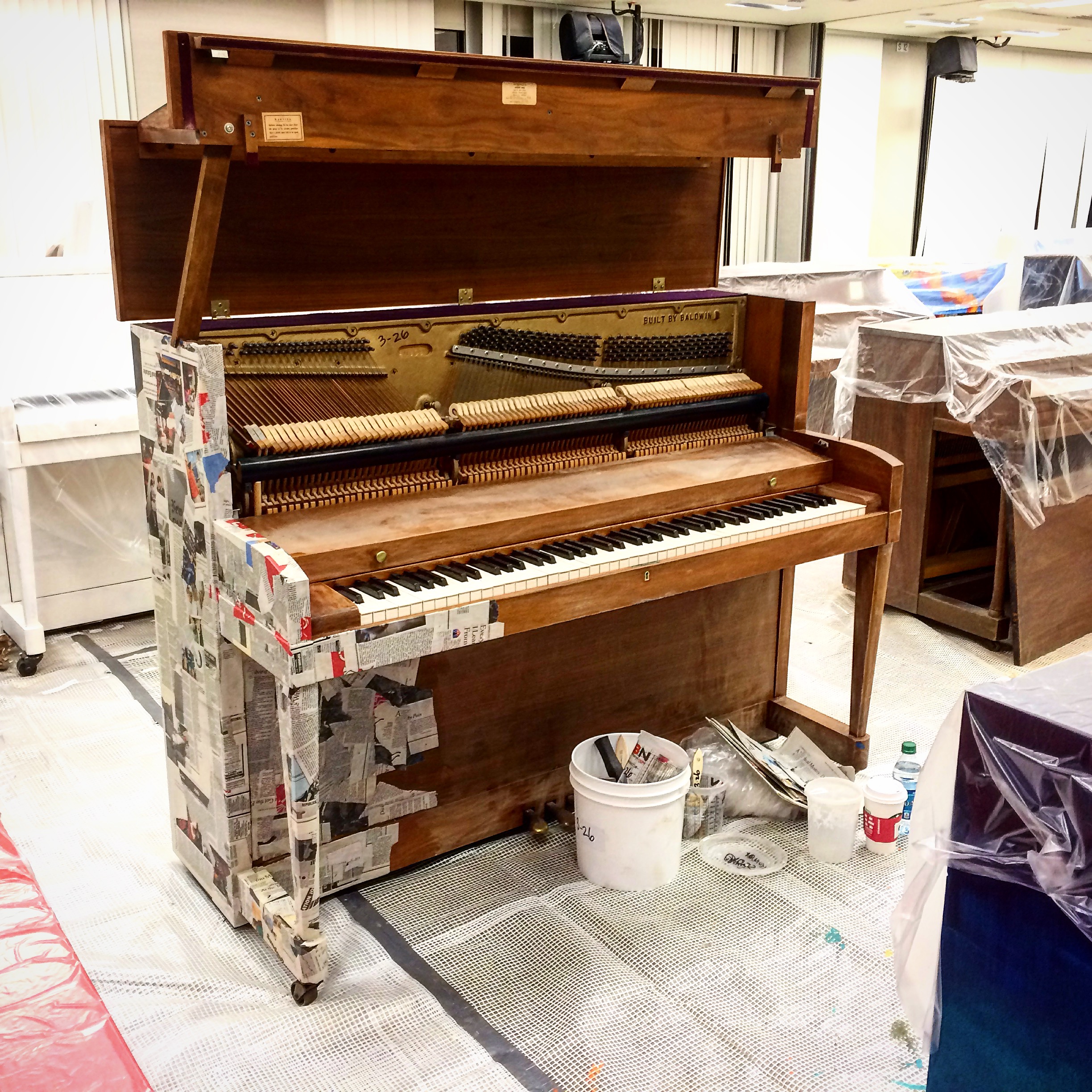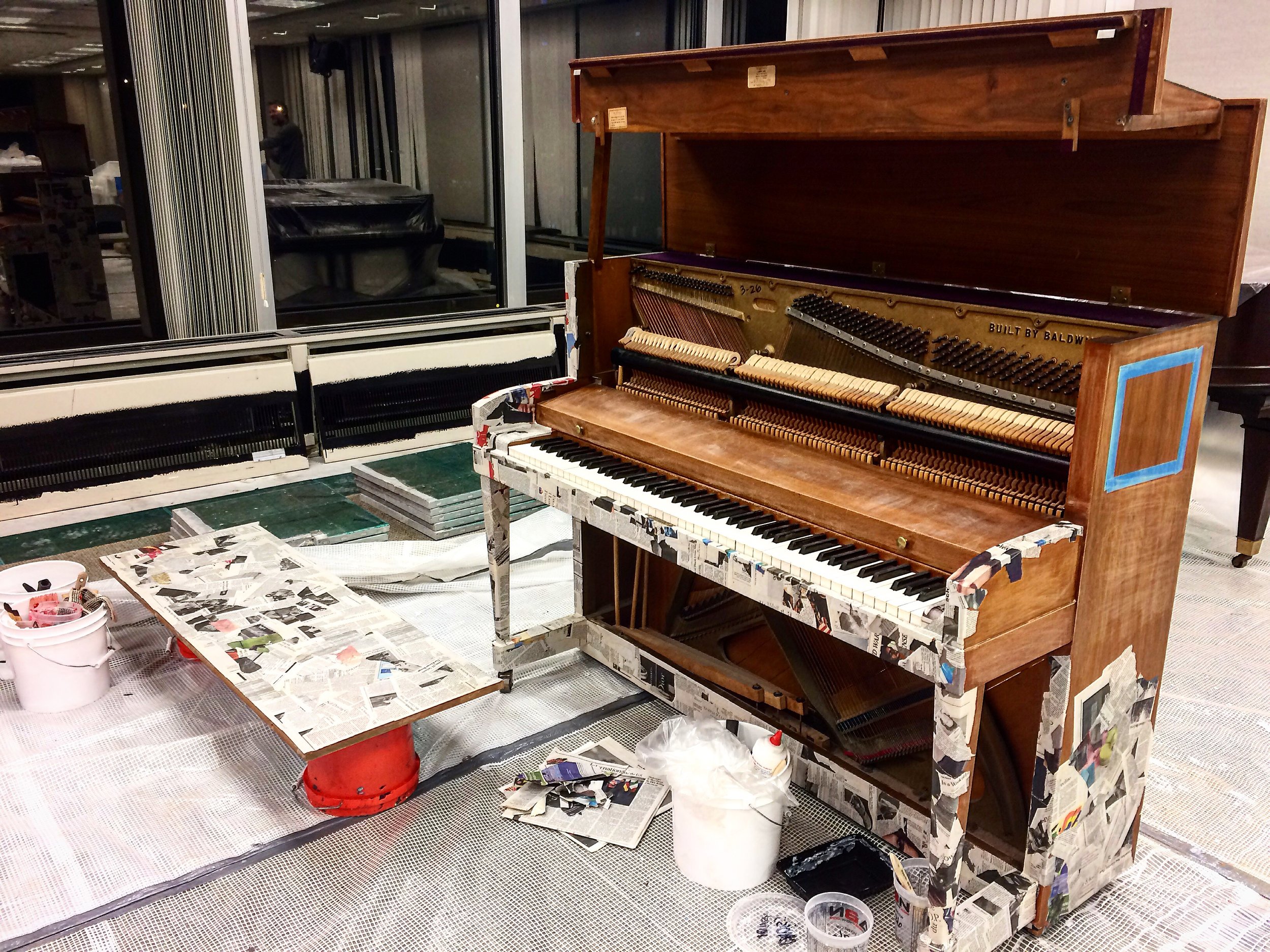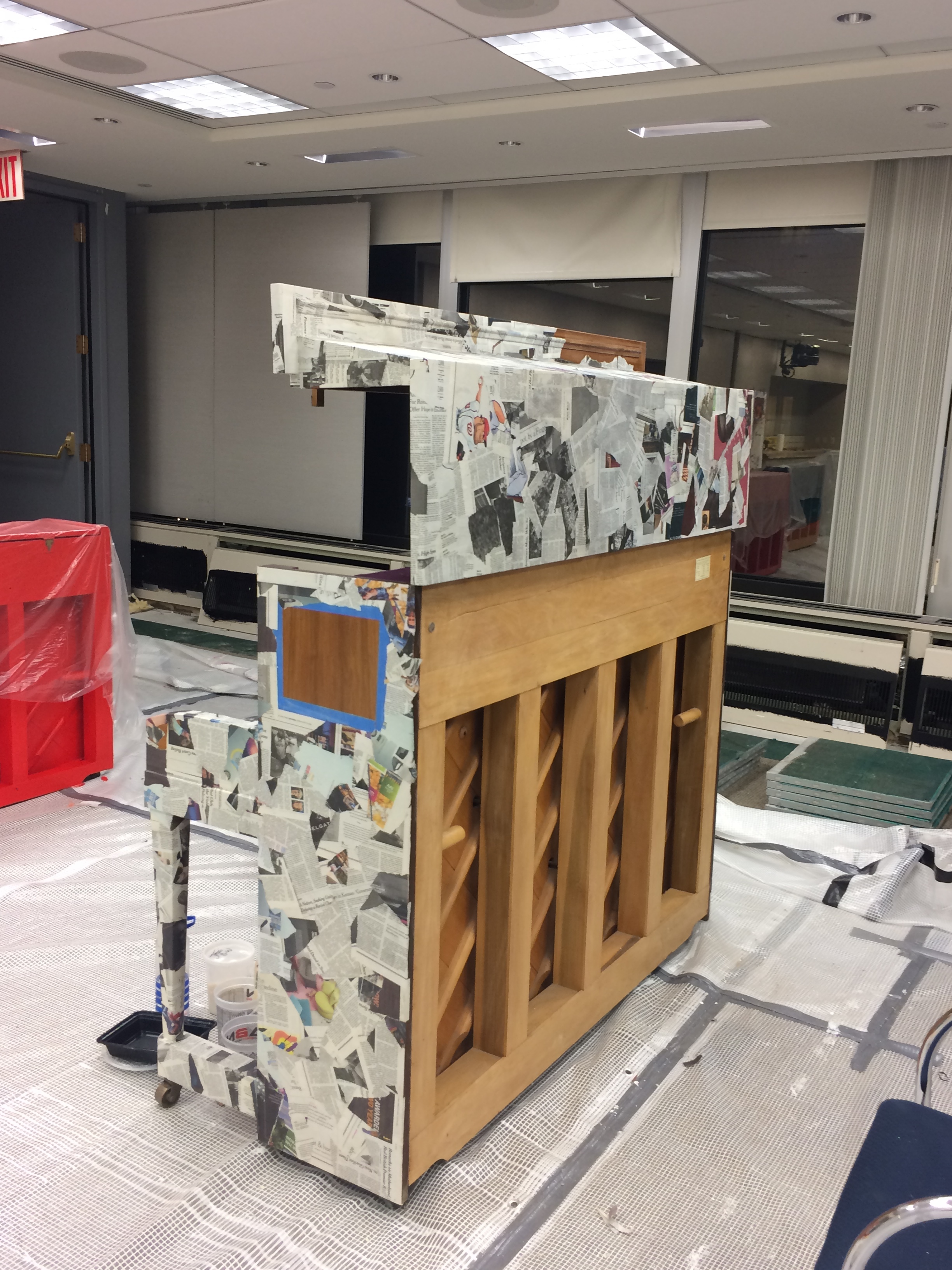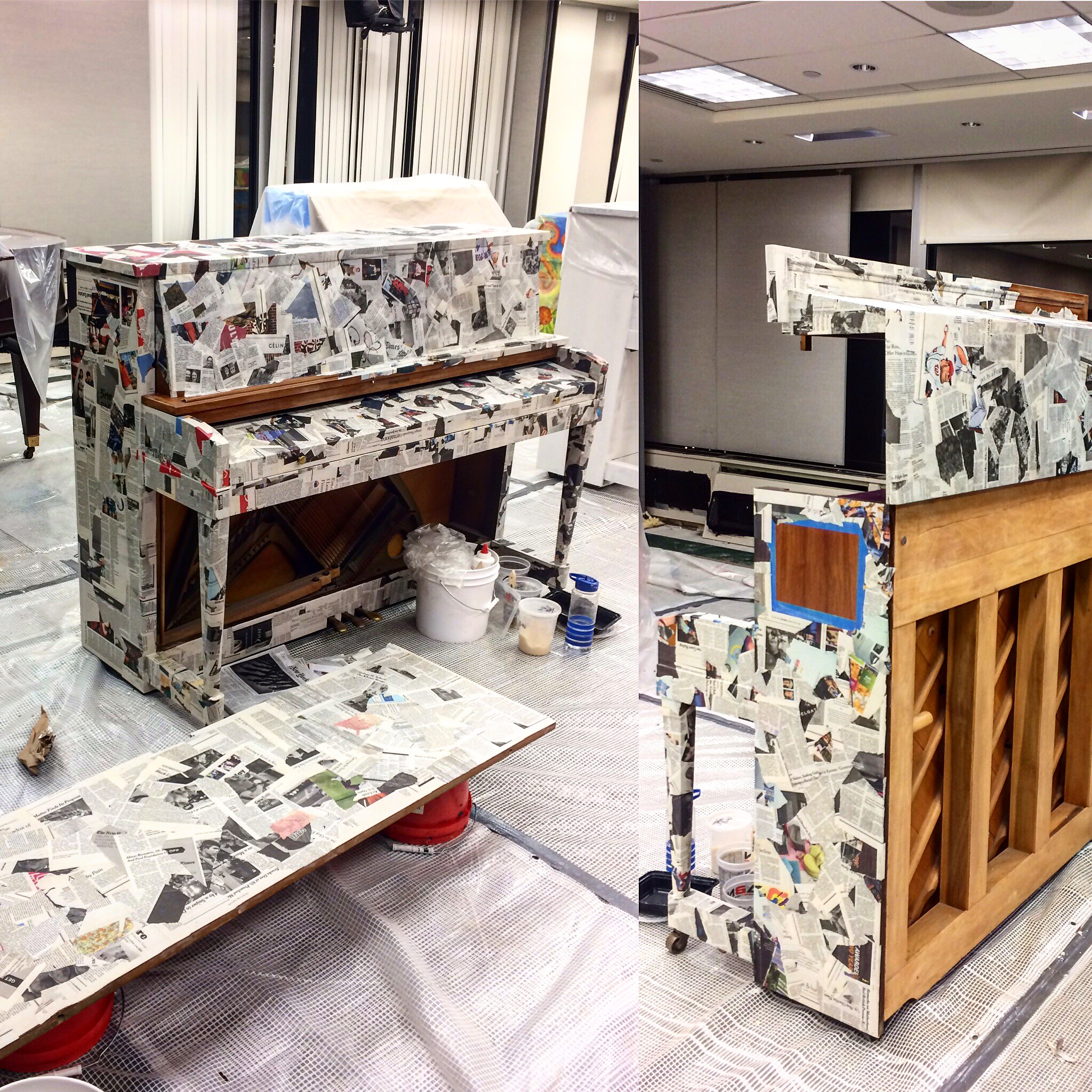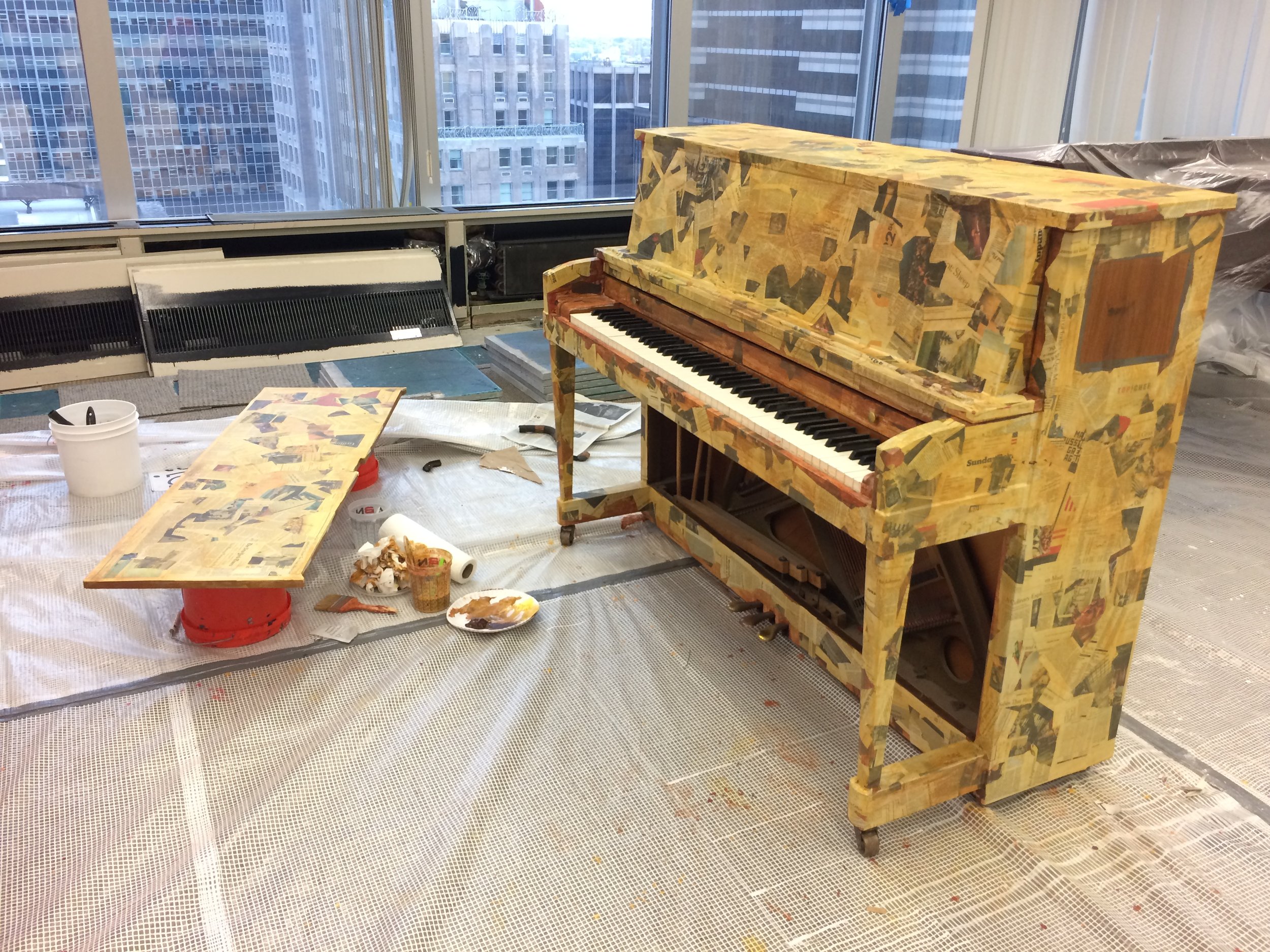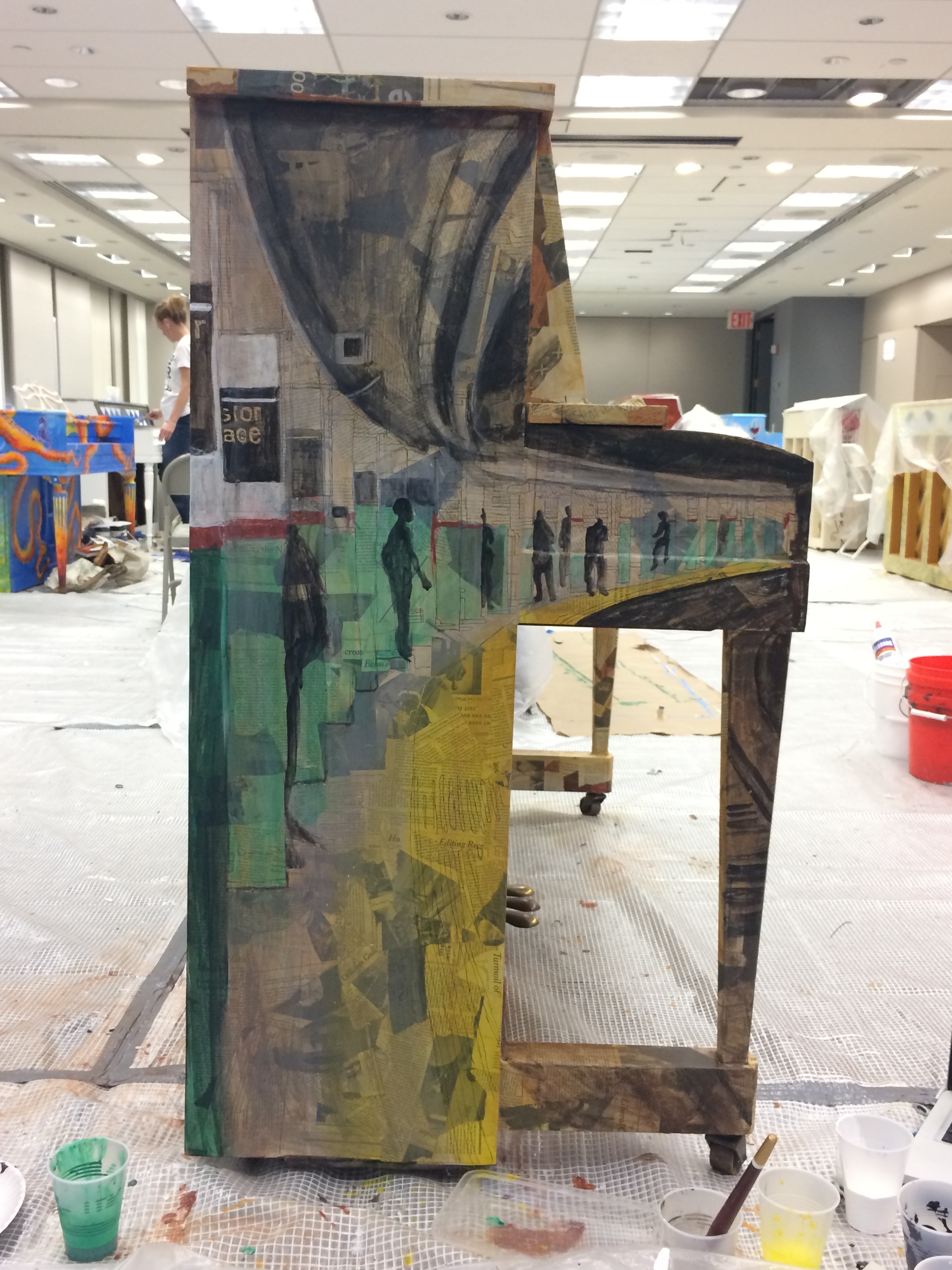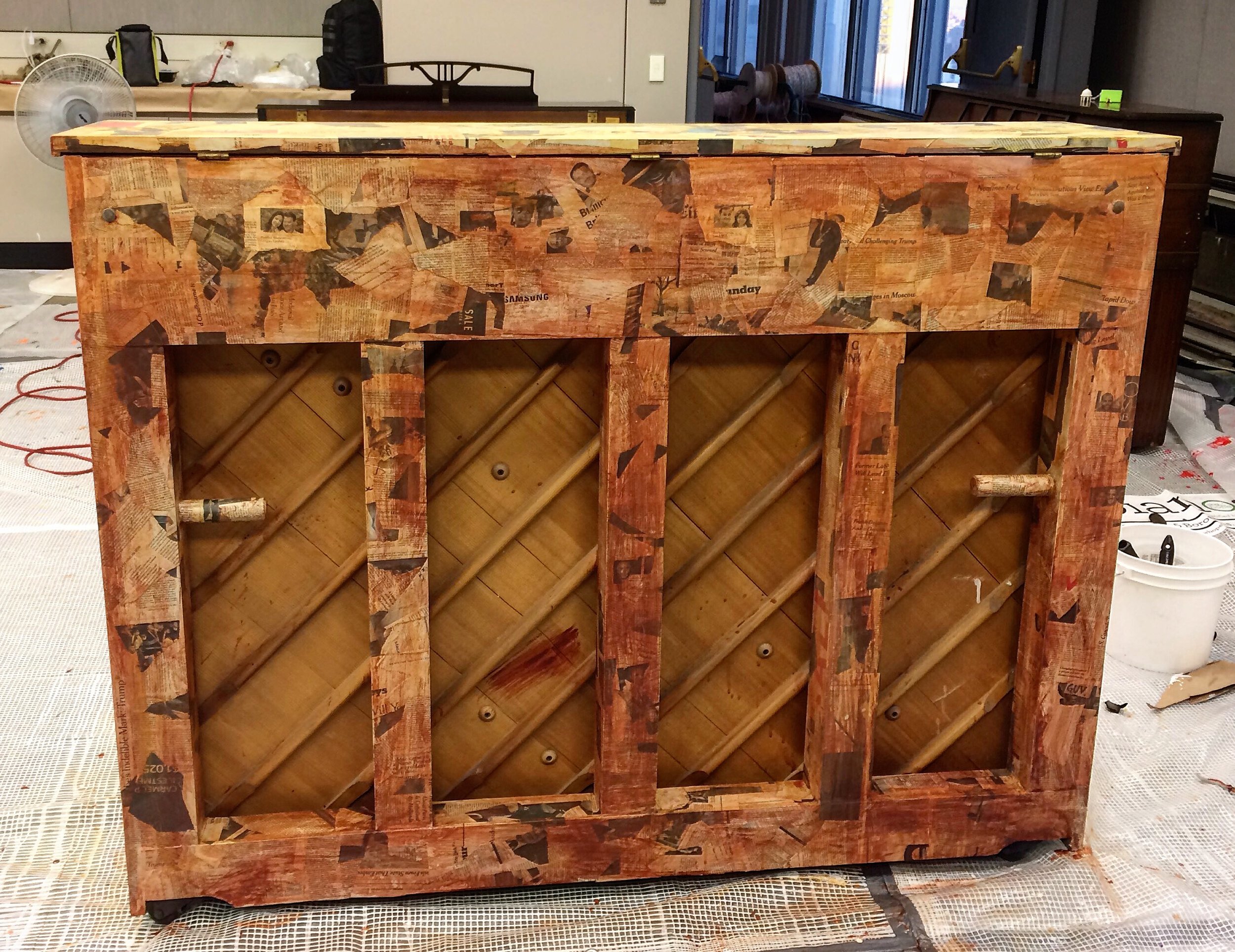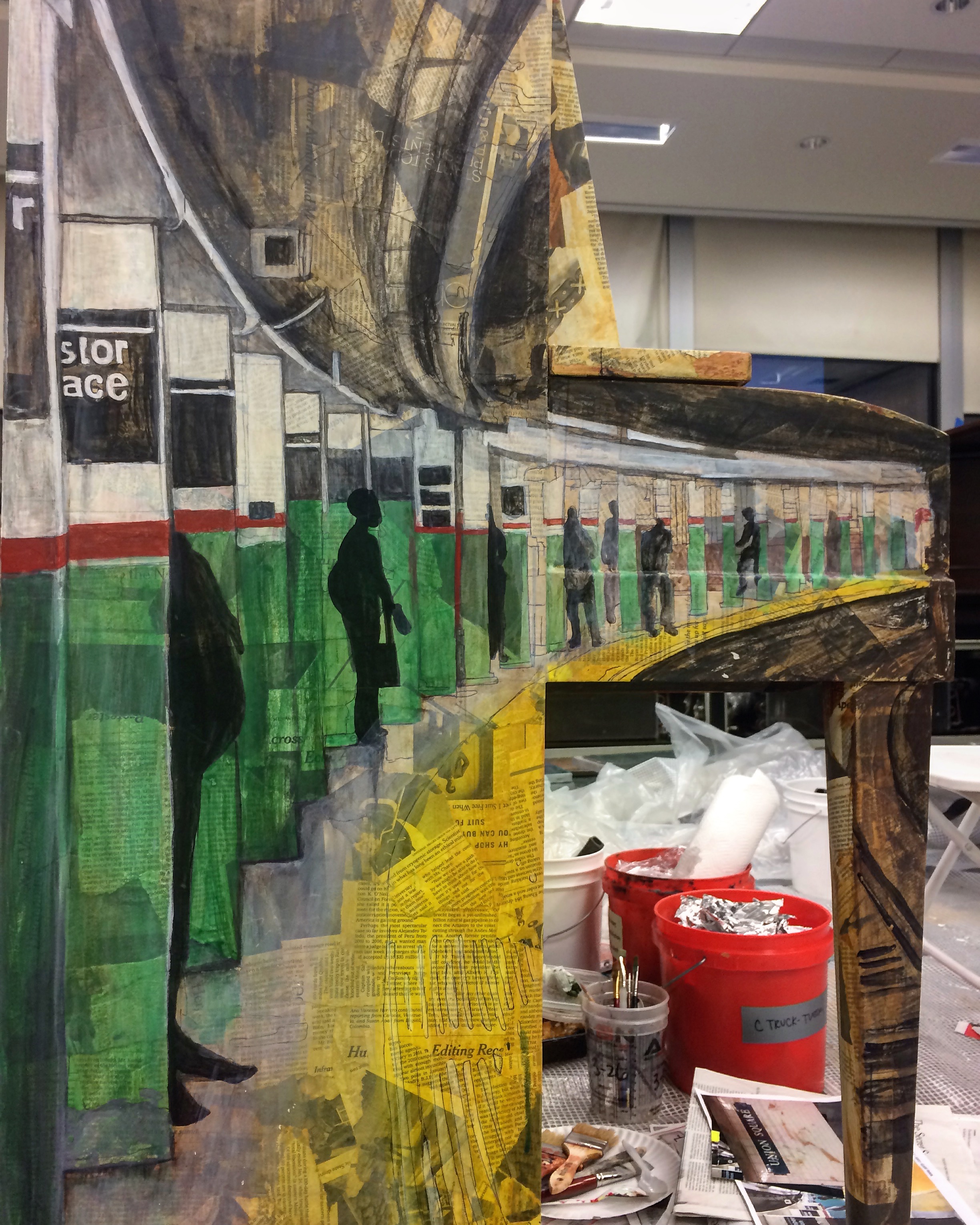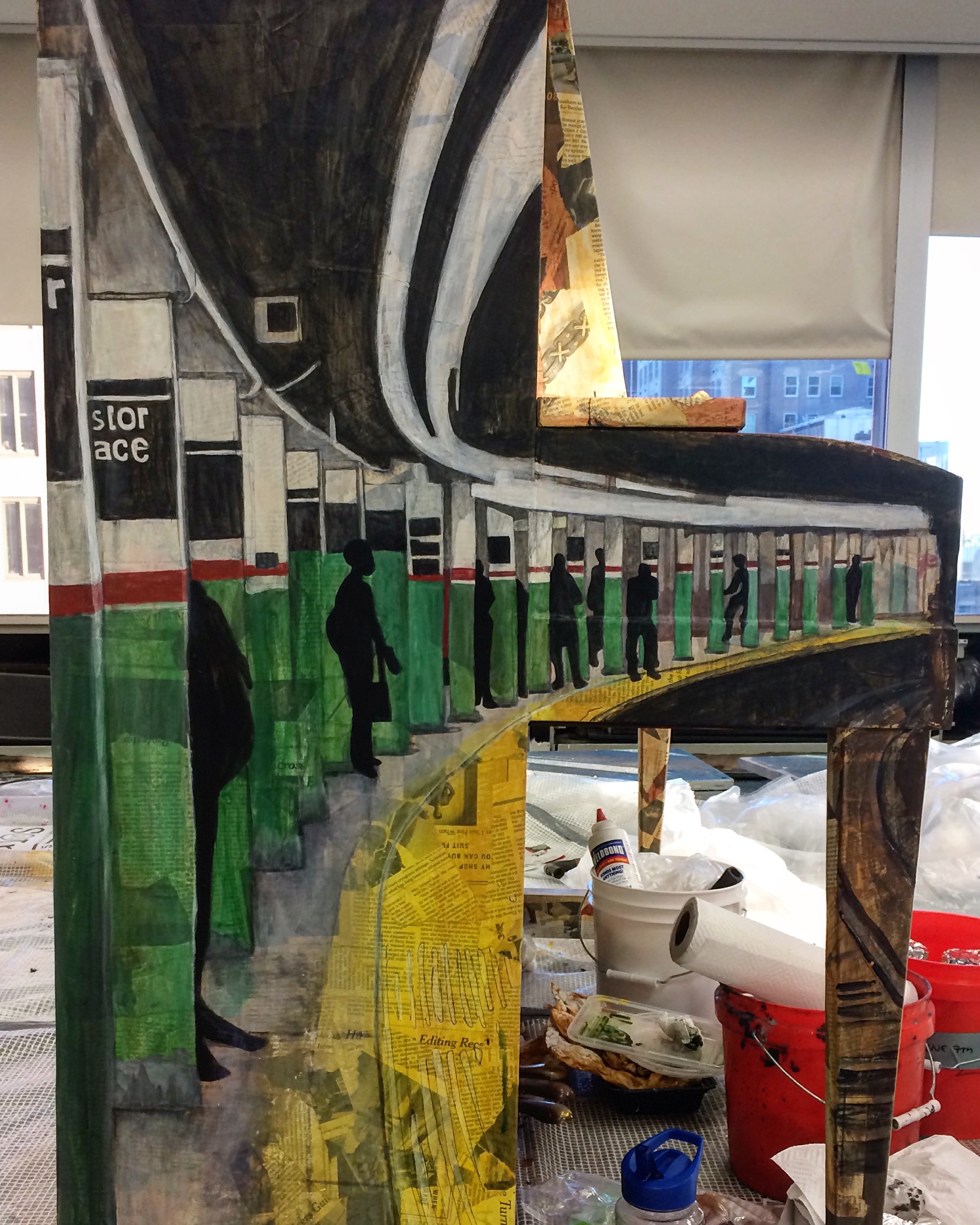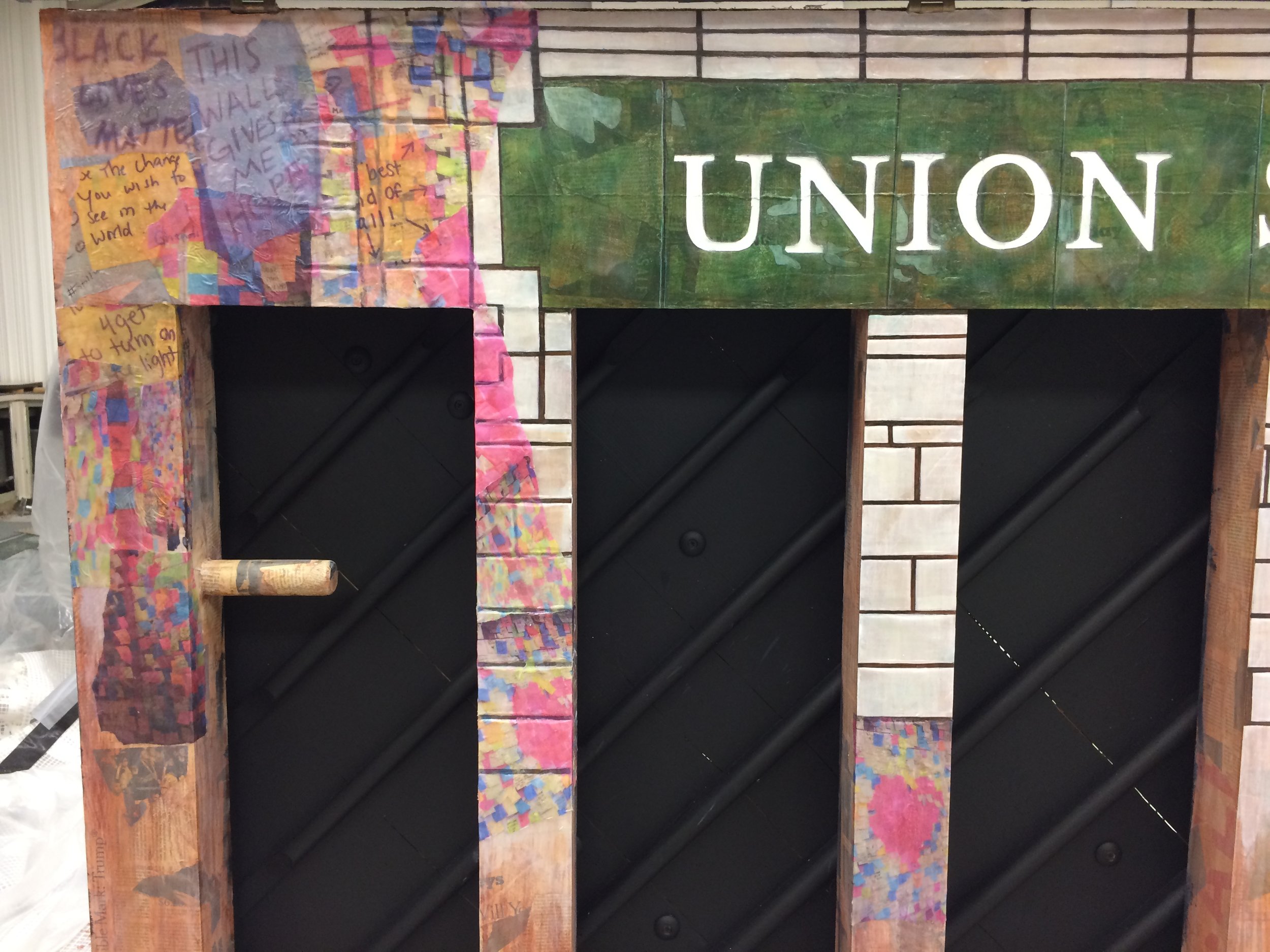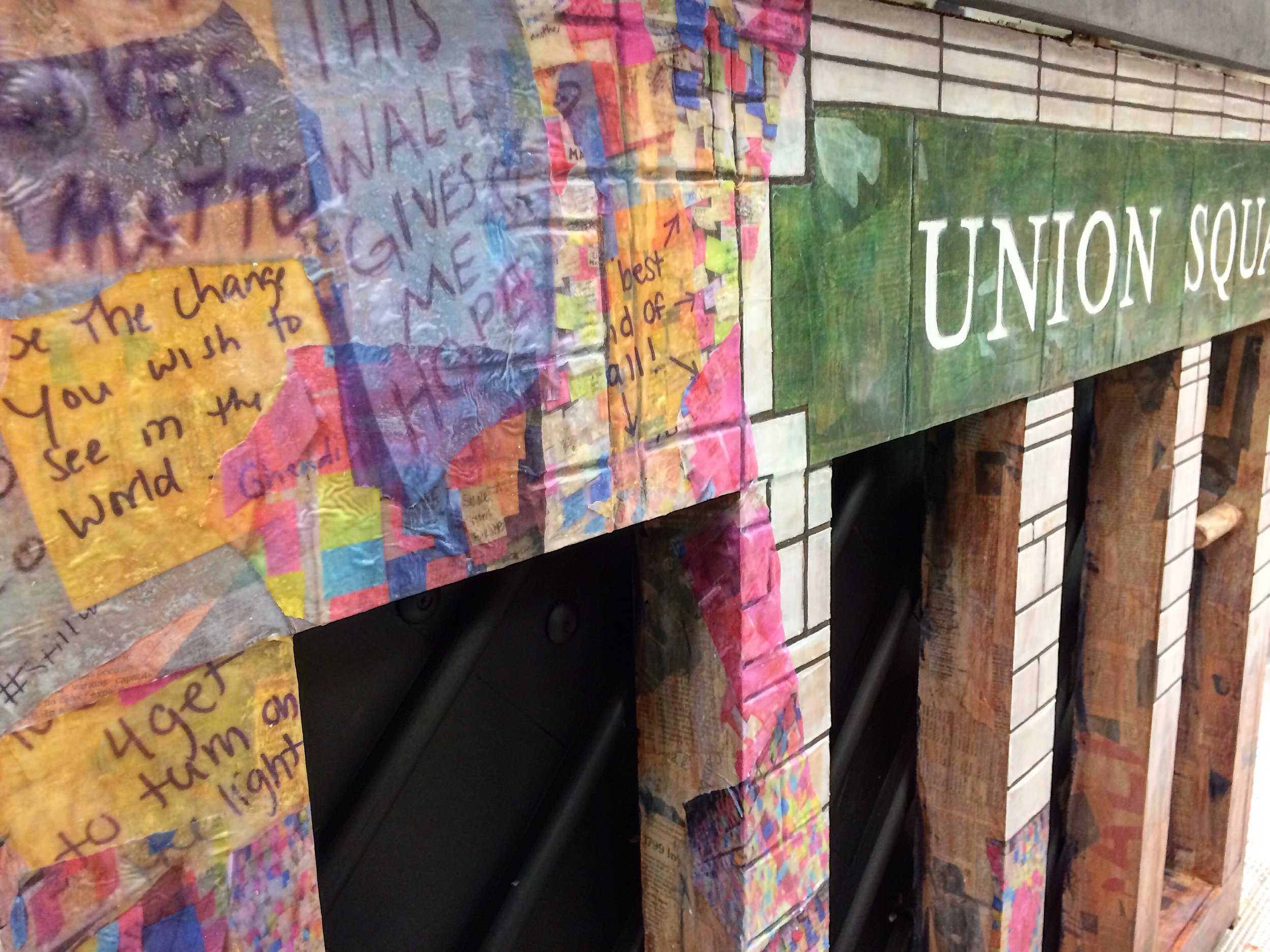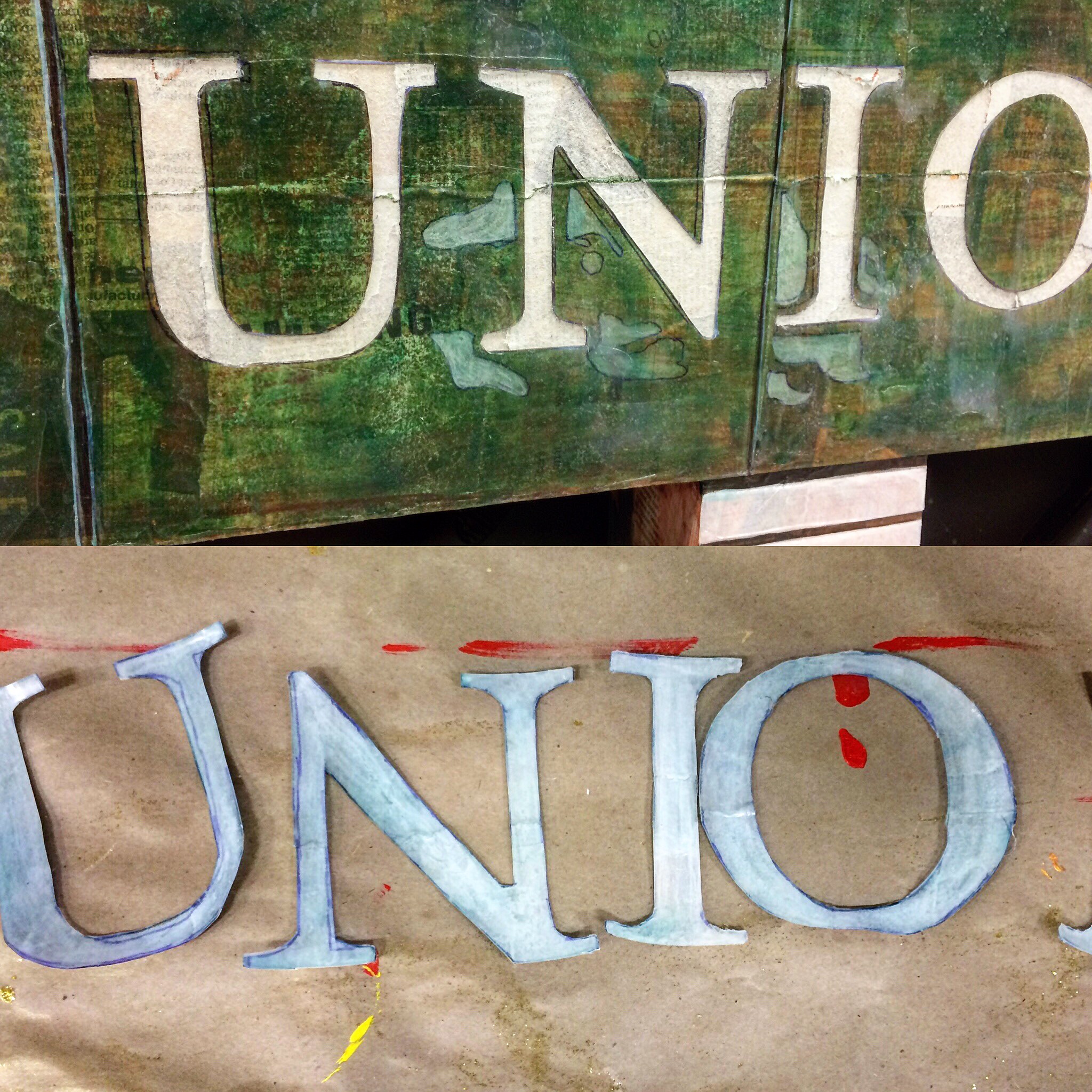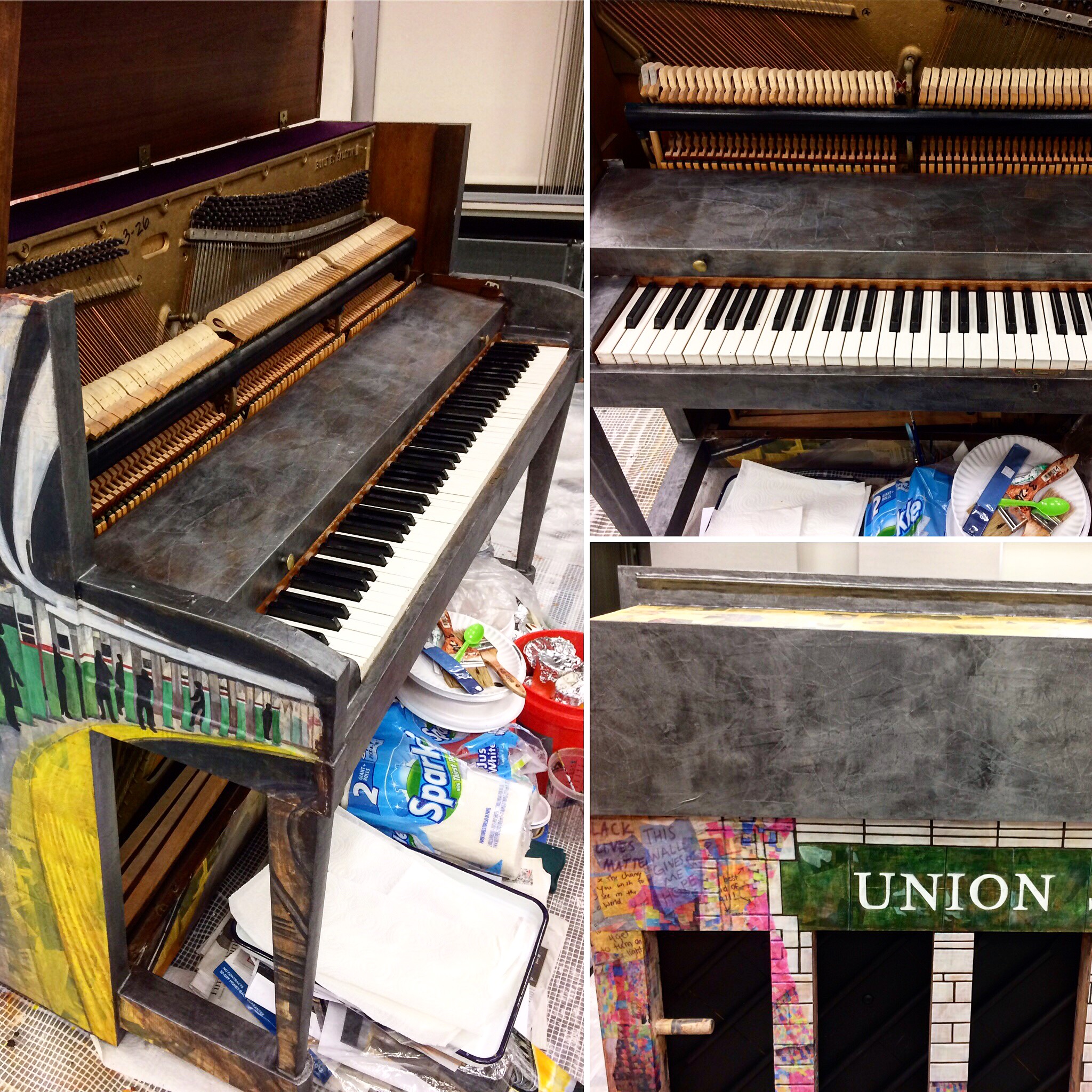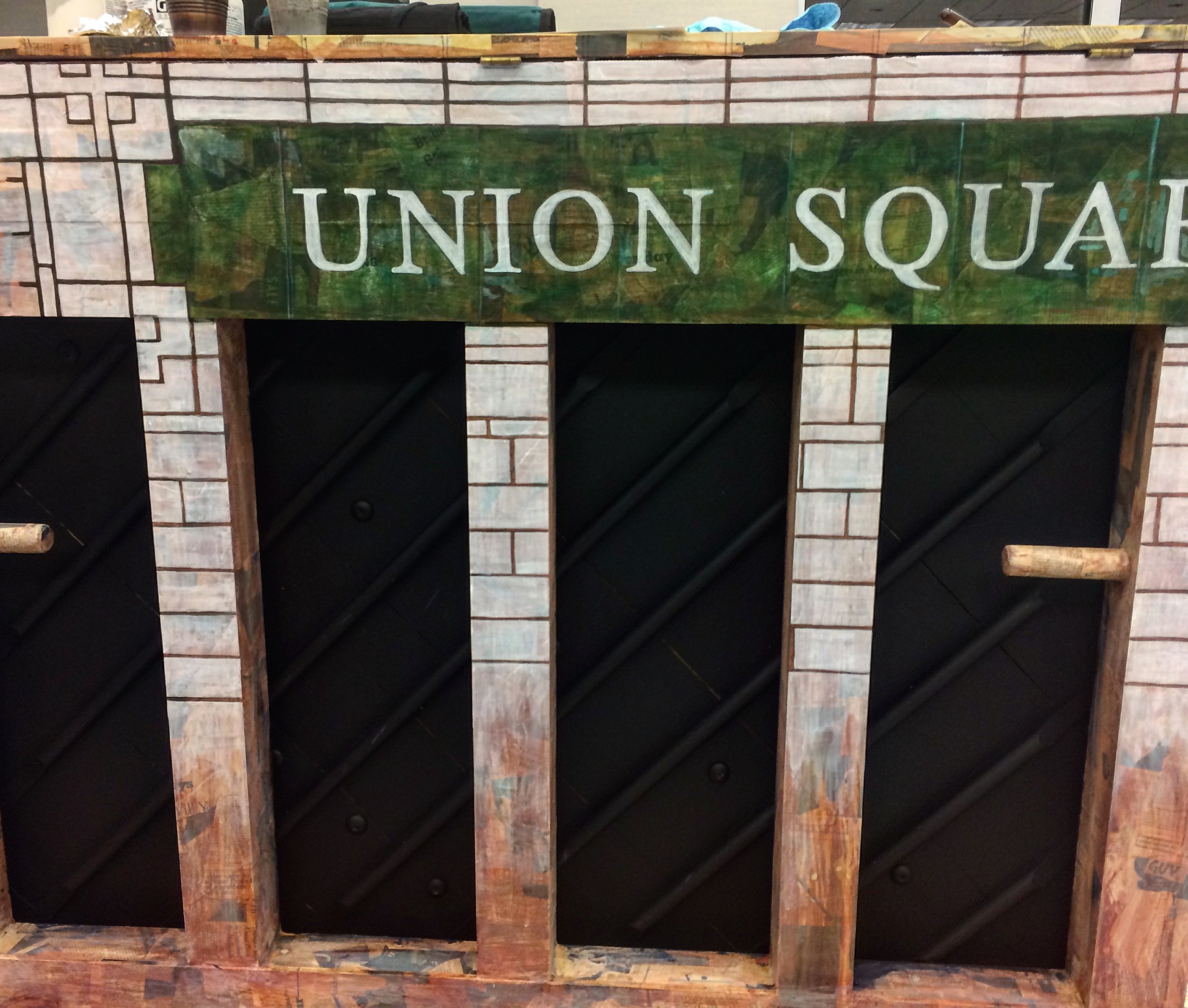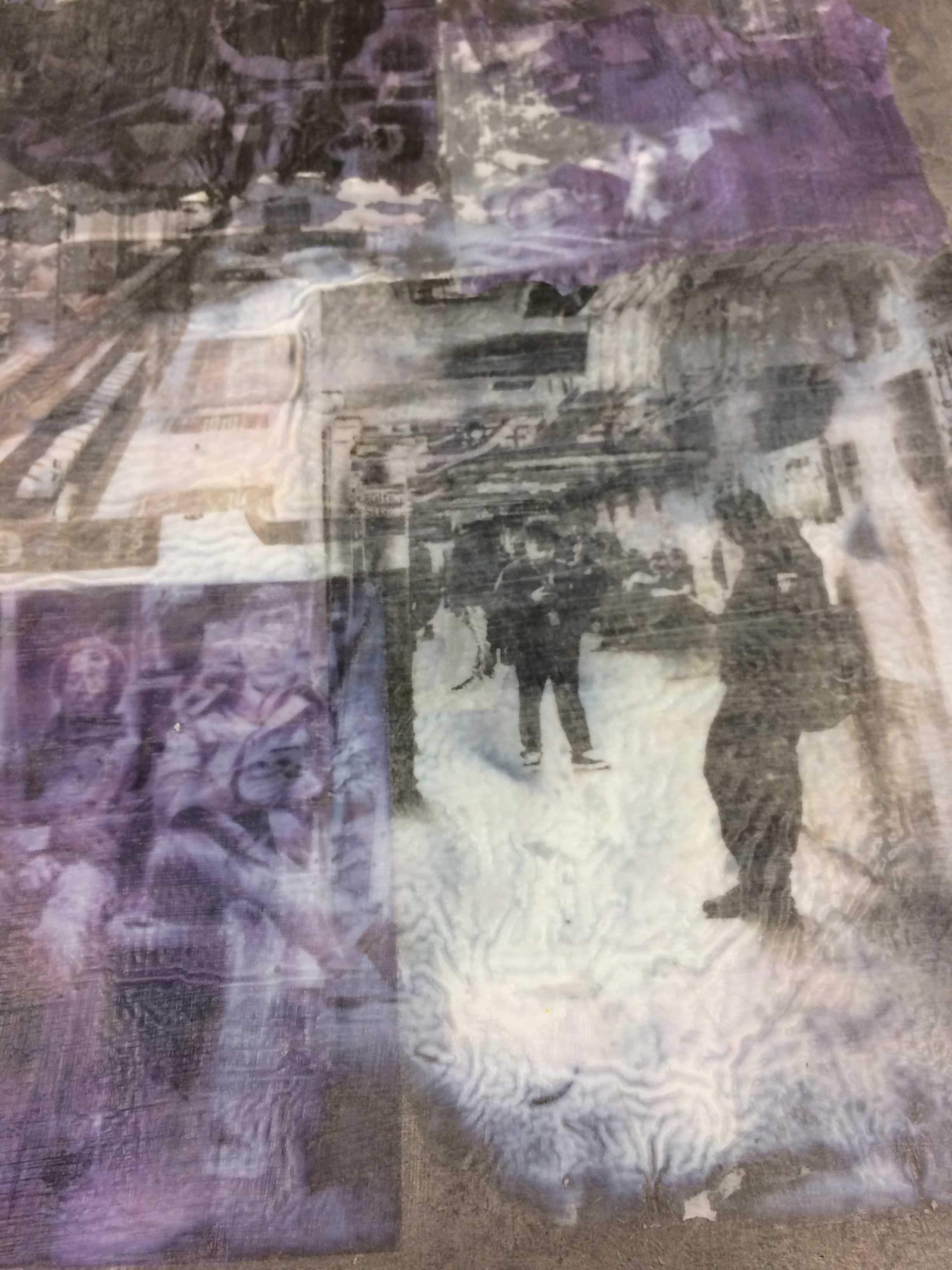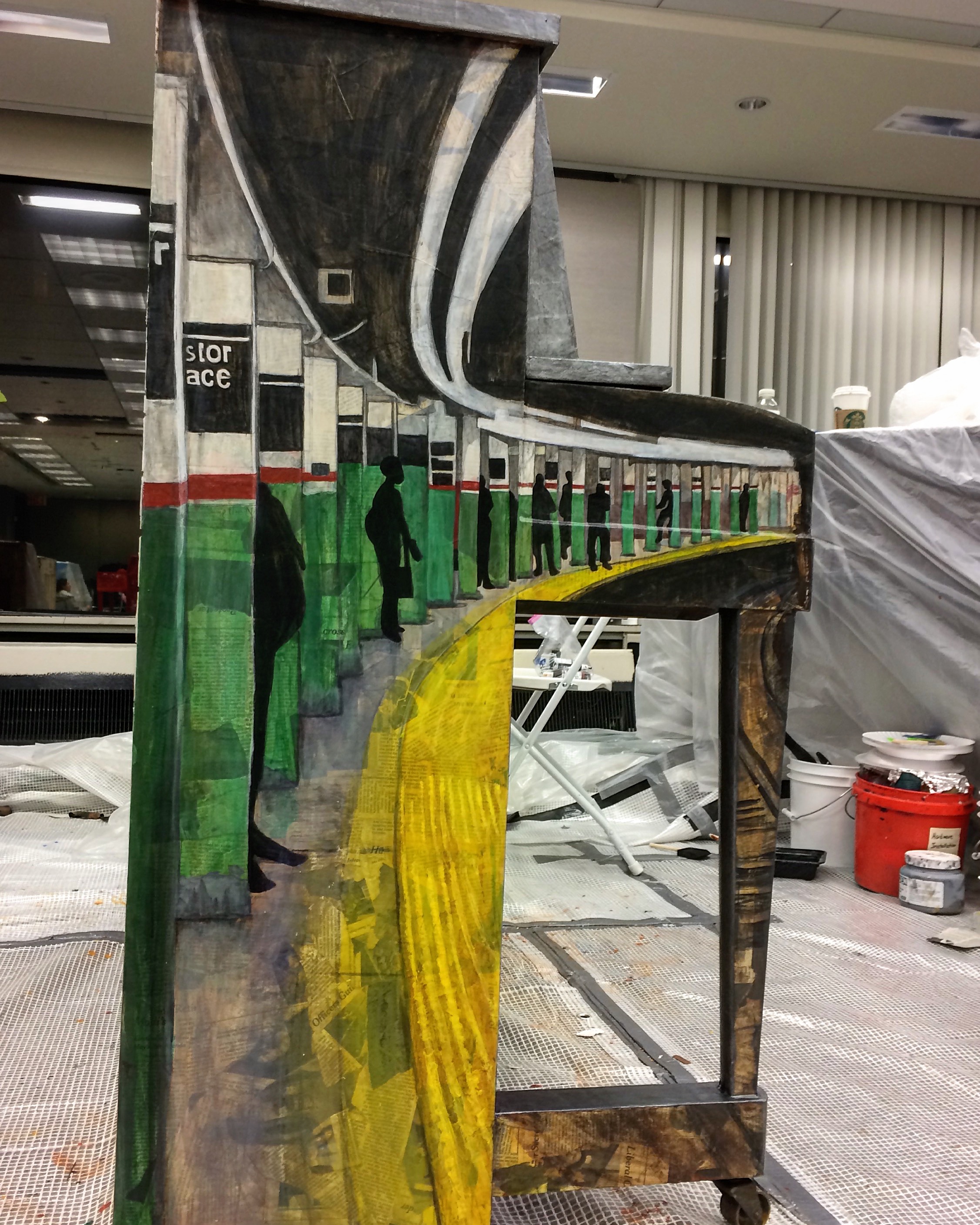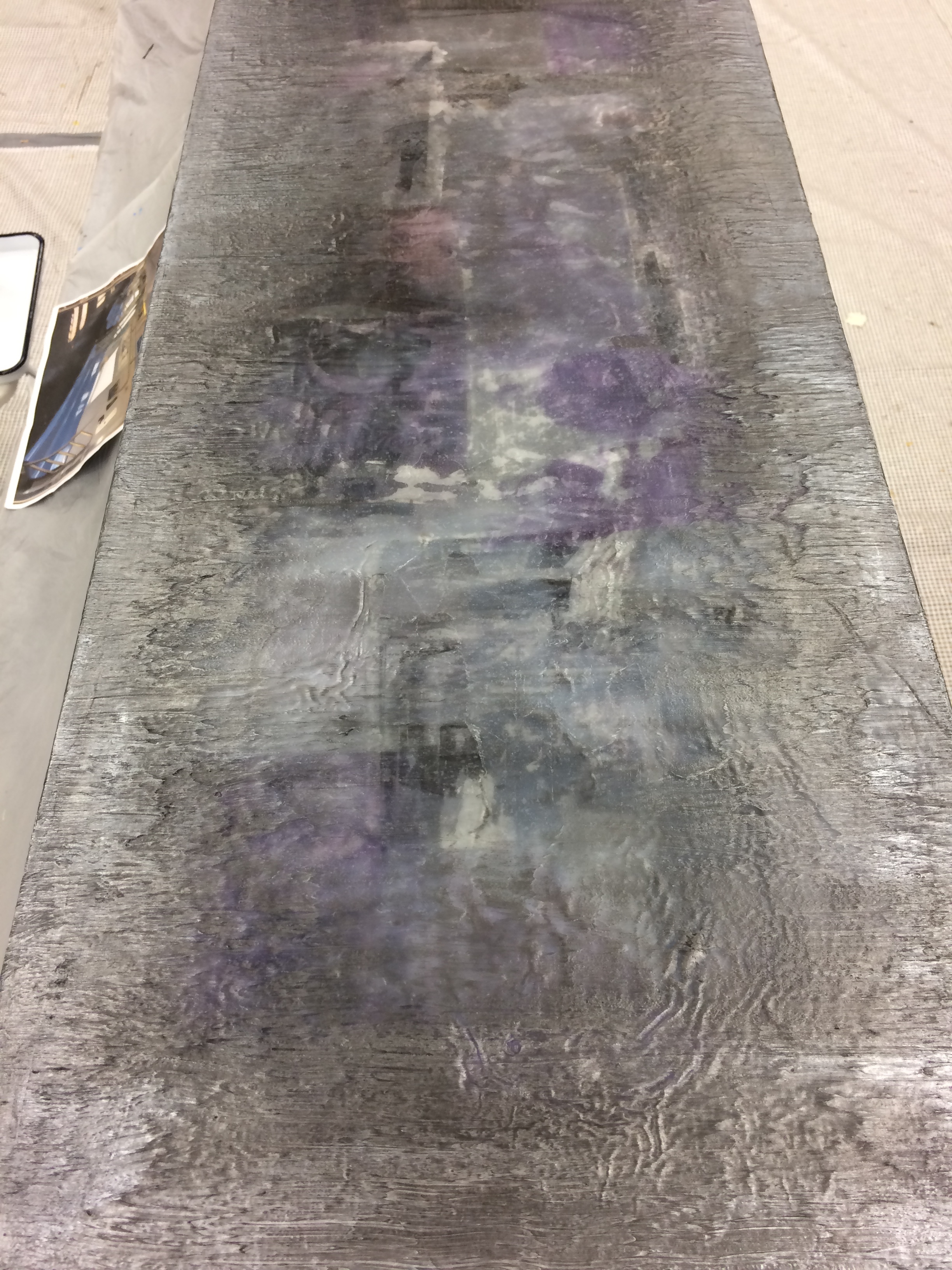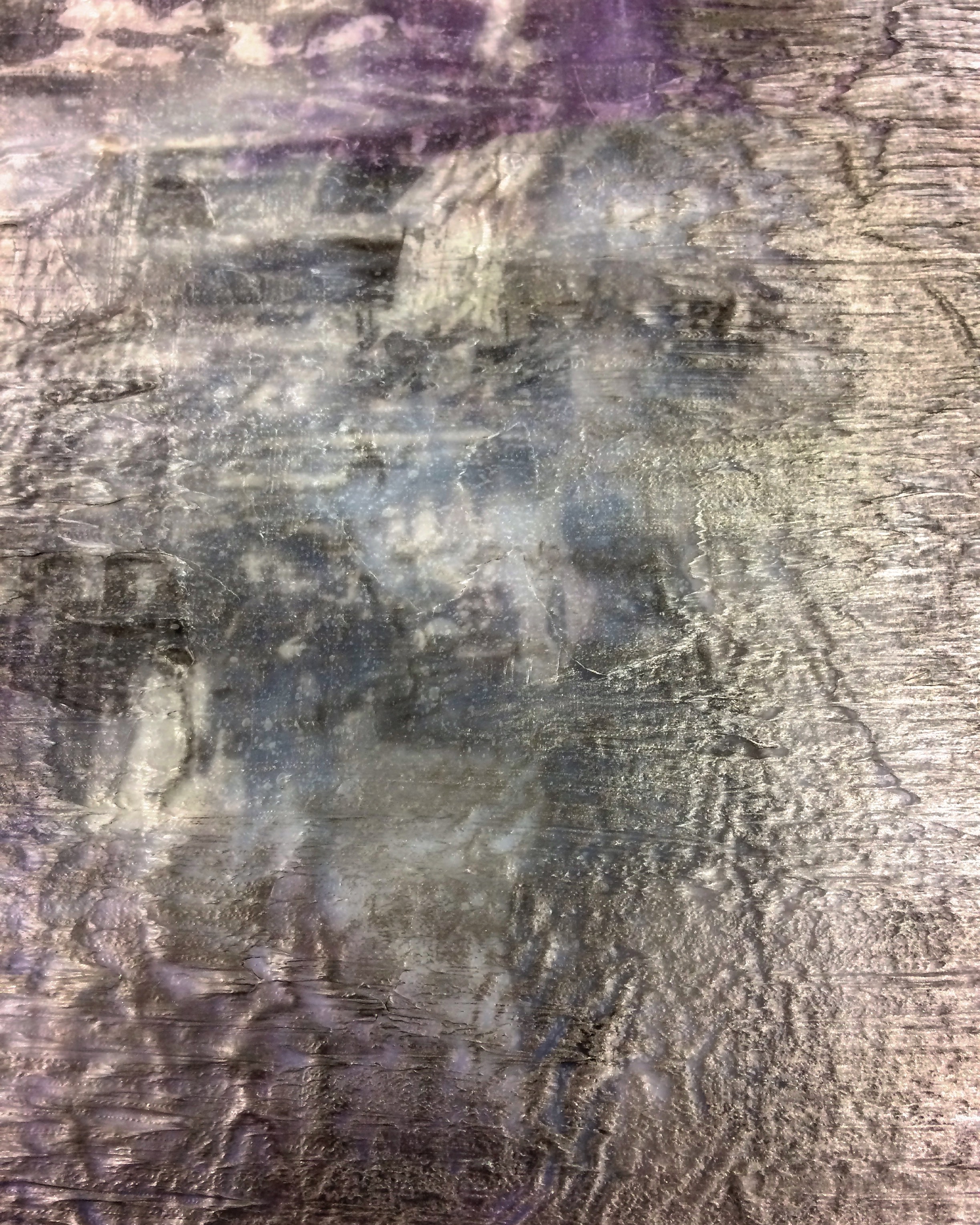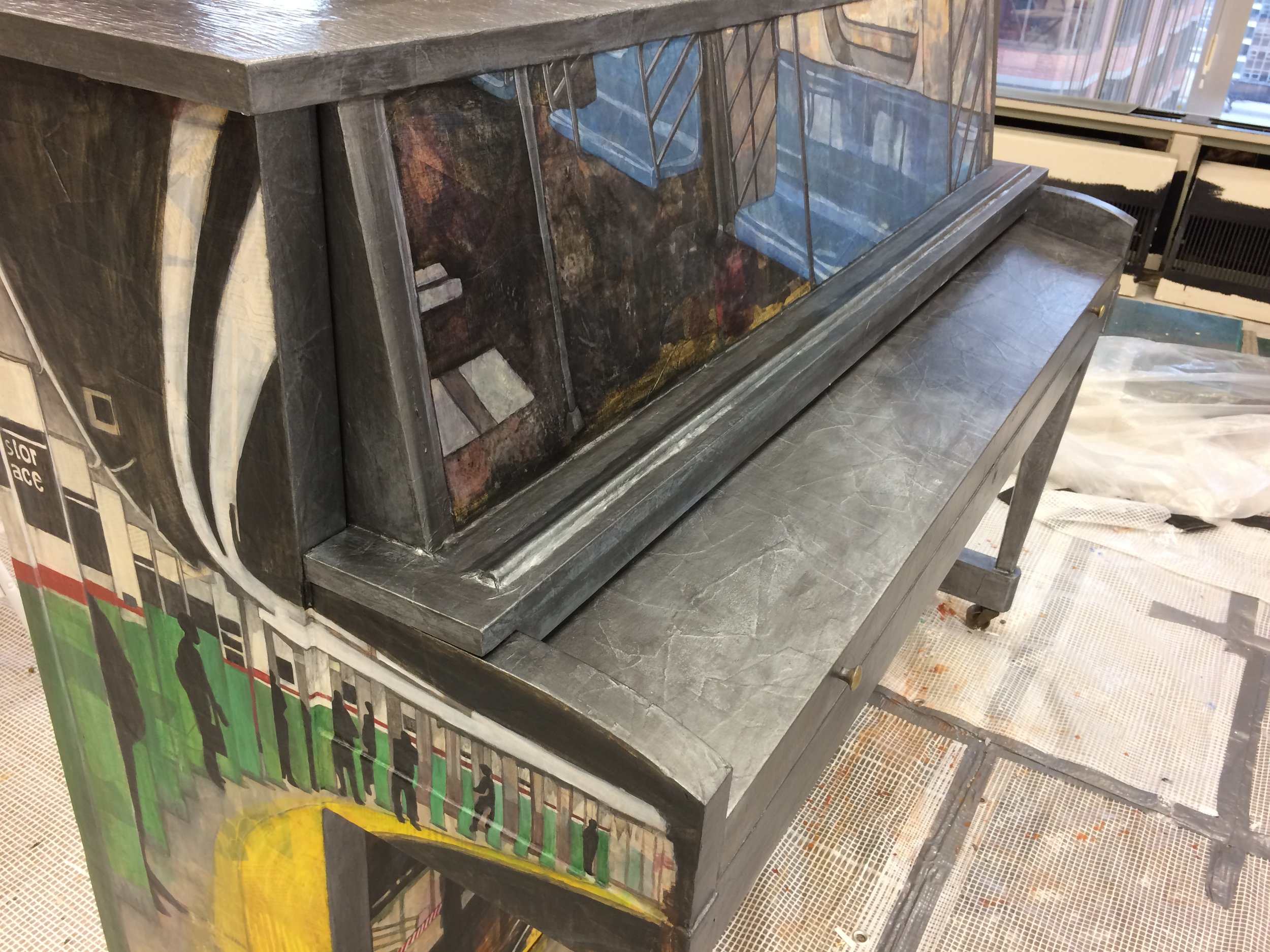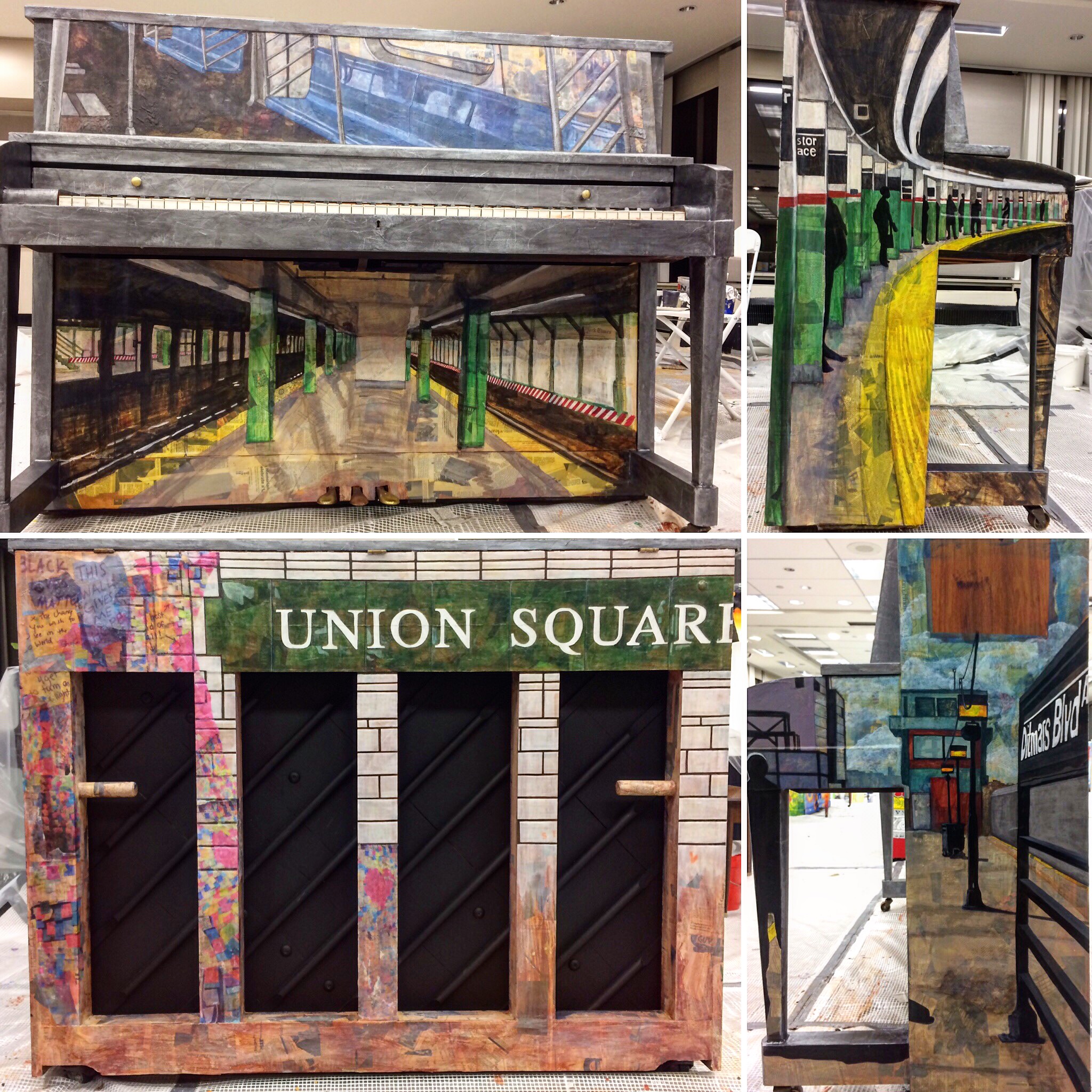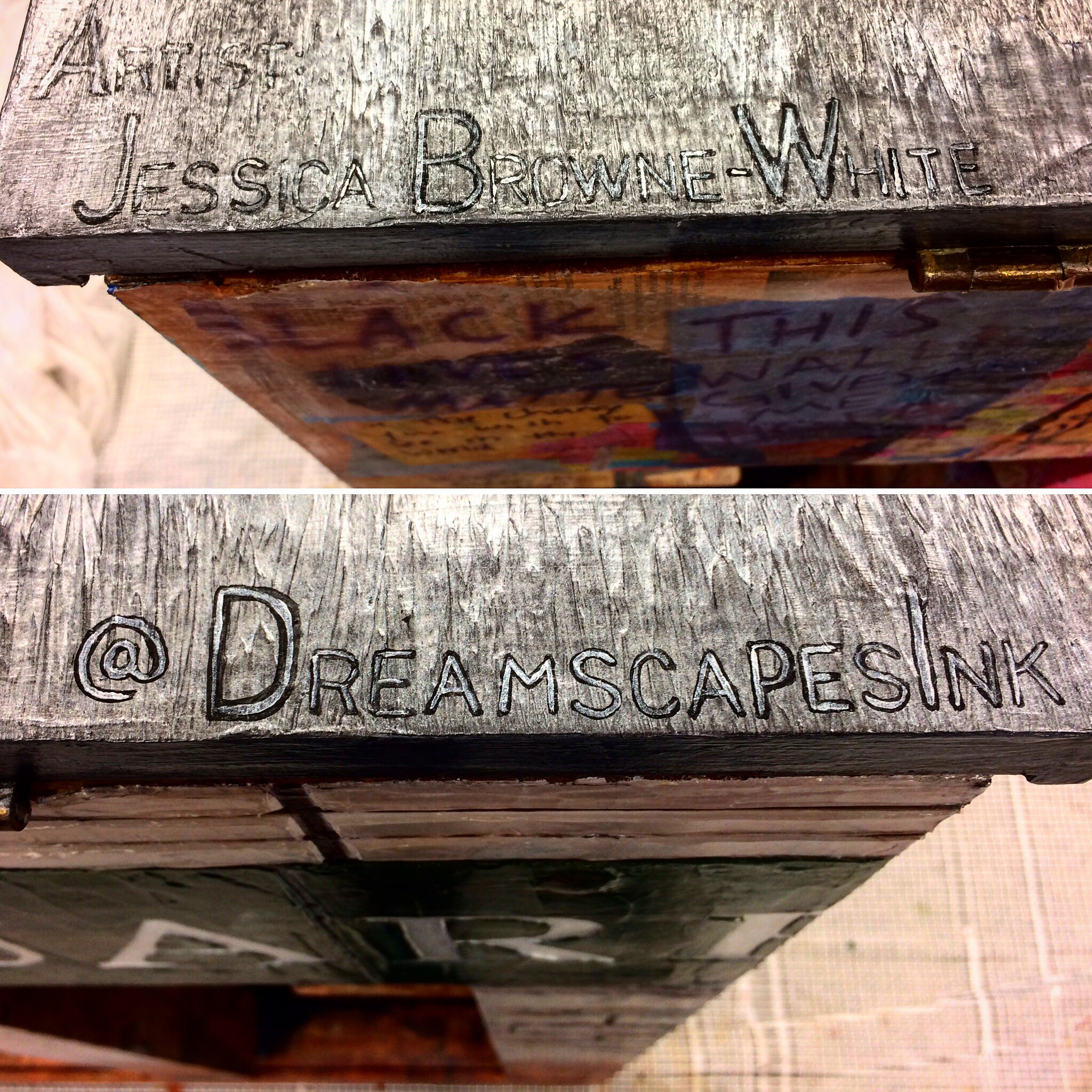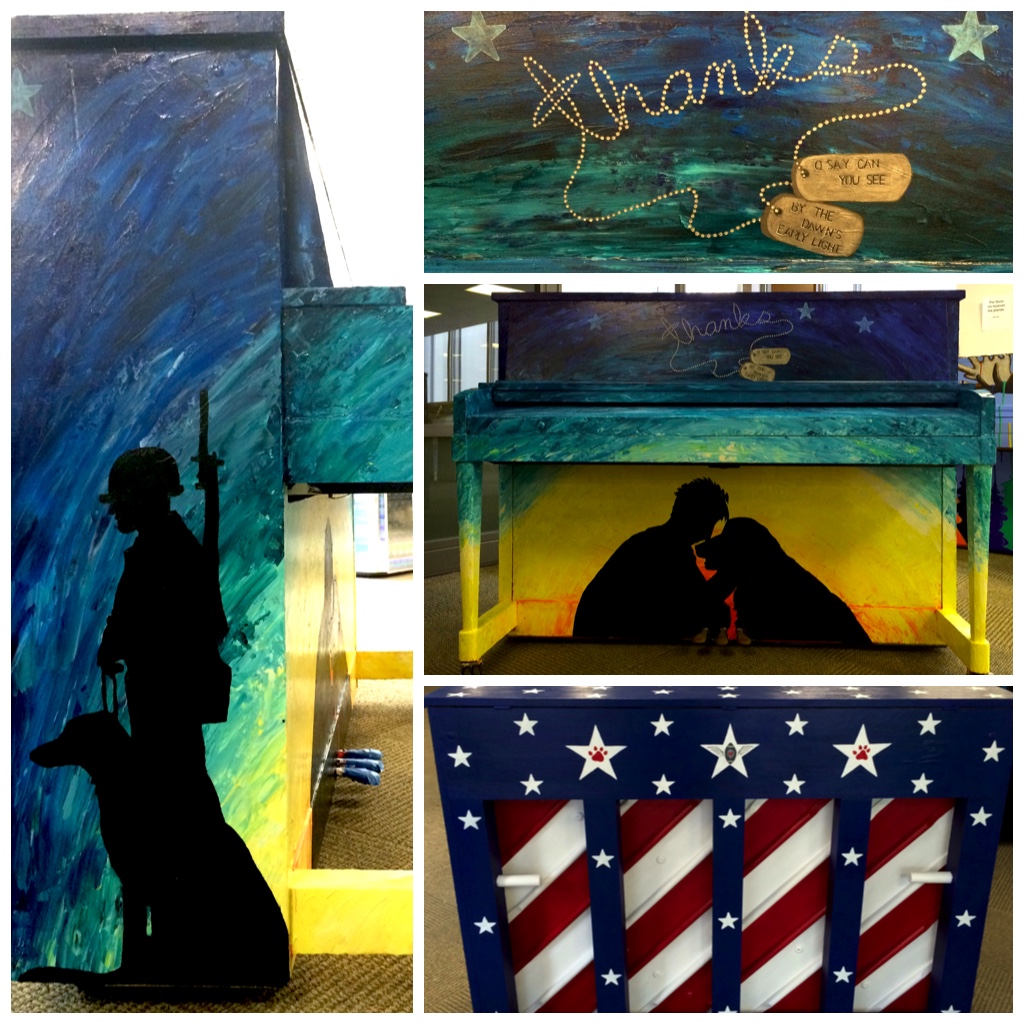 2016 Sing for Hope Pianos
Piano created on behalf of The Eric + Jessie Decker Foundation/Deckers Dogs
I created this piano for The Eric + Jessie Decker Foundation/Deckers Dogs. The Eric & Jessie Decker Foundation, through its fundraising efforts and community outreach, strives to positively impact the lives of United States military service members and veterans as well as animals. EJDF is committed to service to those who have served us via Deckers Dogs, which helps fund the rescue, care and training of service dogs for military veterans returning home with disabilities. For more information, visit their website at http://ejdeckerfoundation.com/
Here are some images of the piano in progress as well as images from its time on the streets (Liberty Plaza & Central Park, Literary Walk).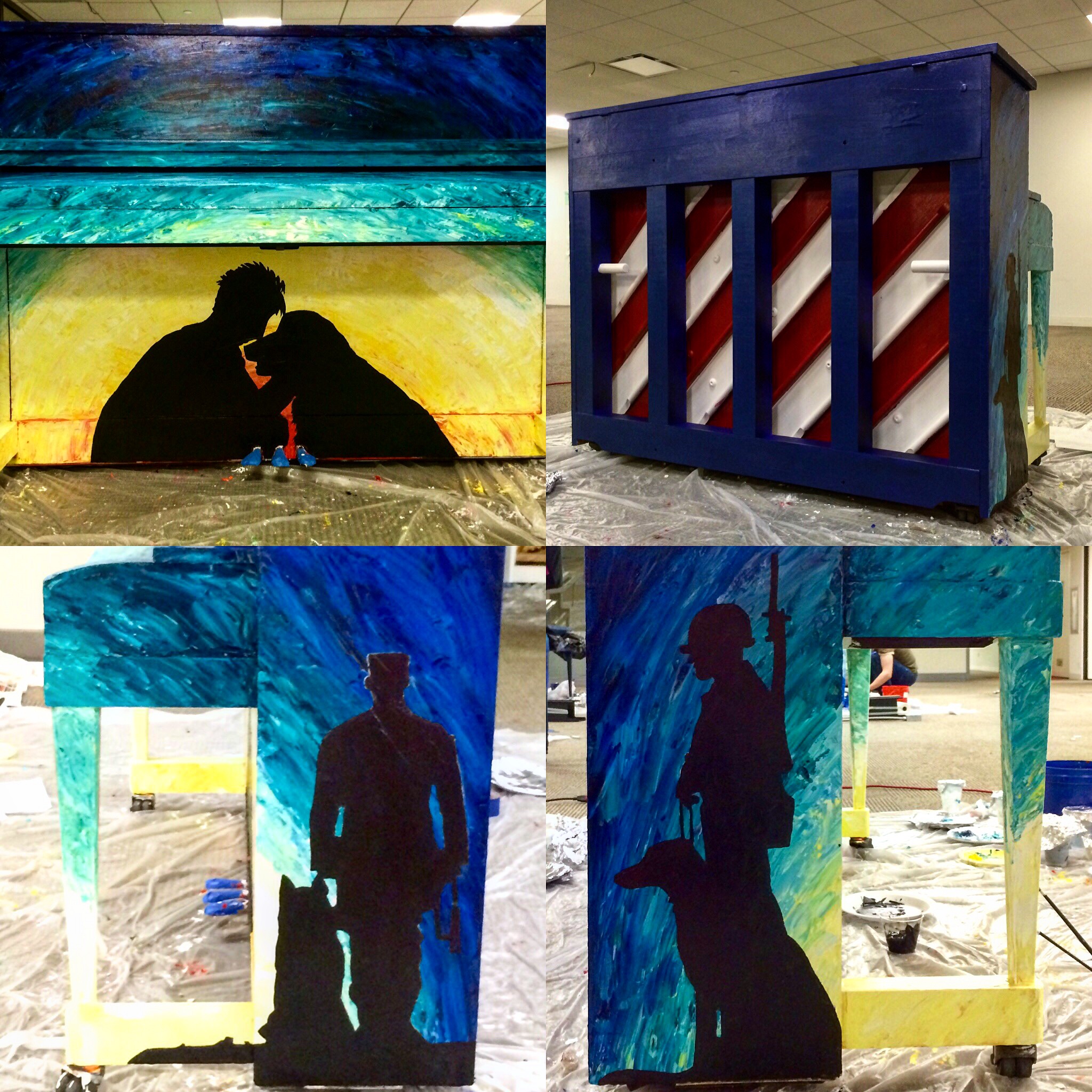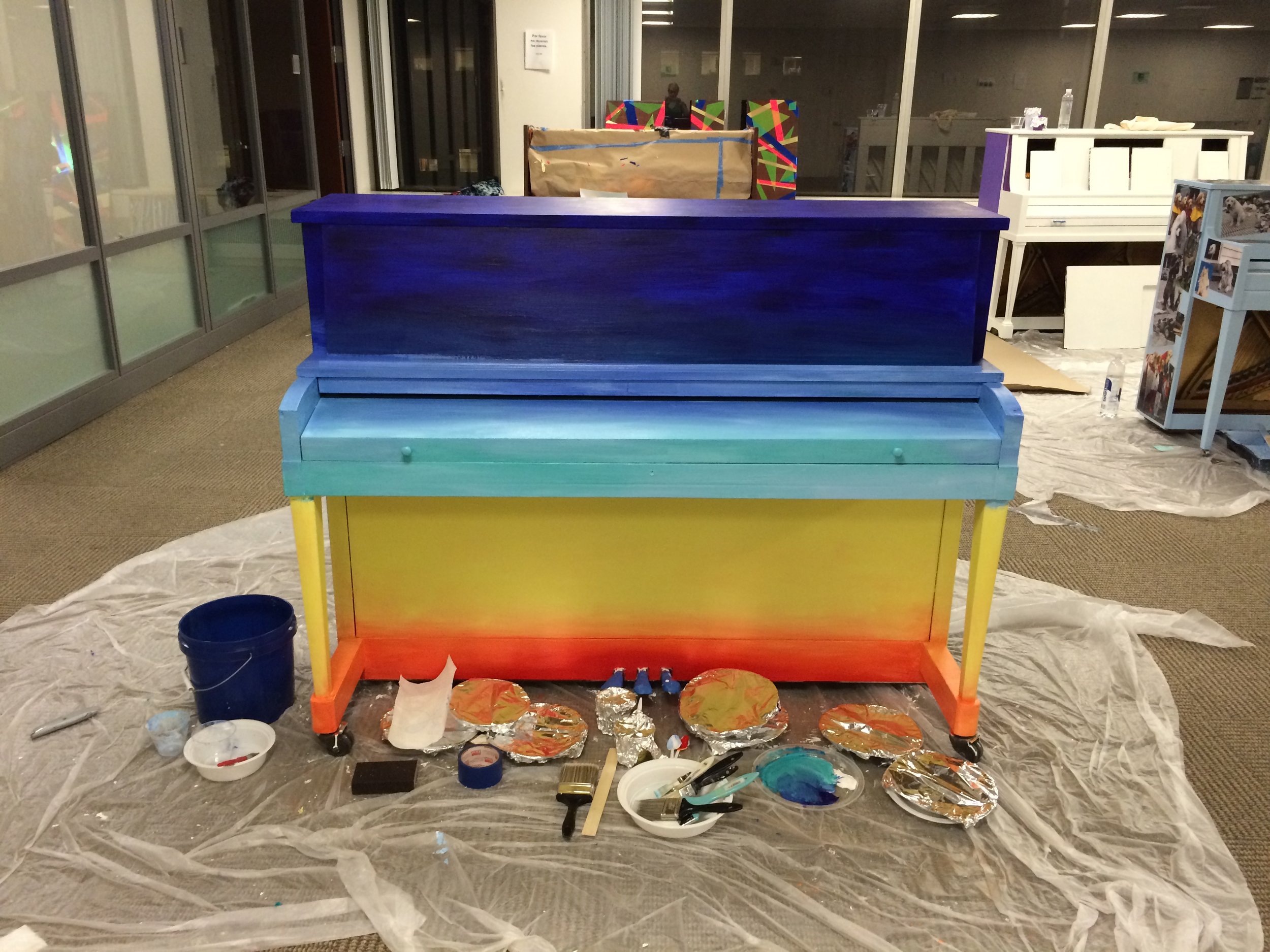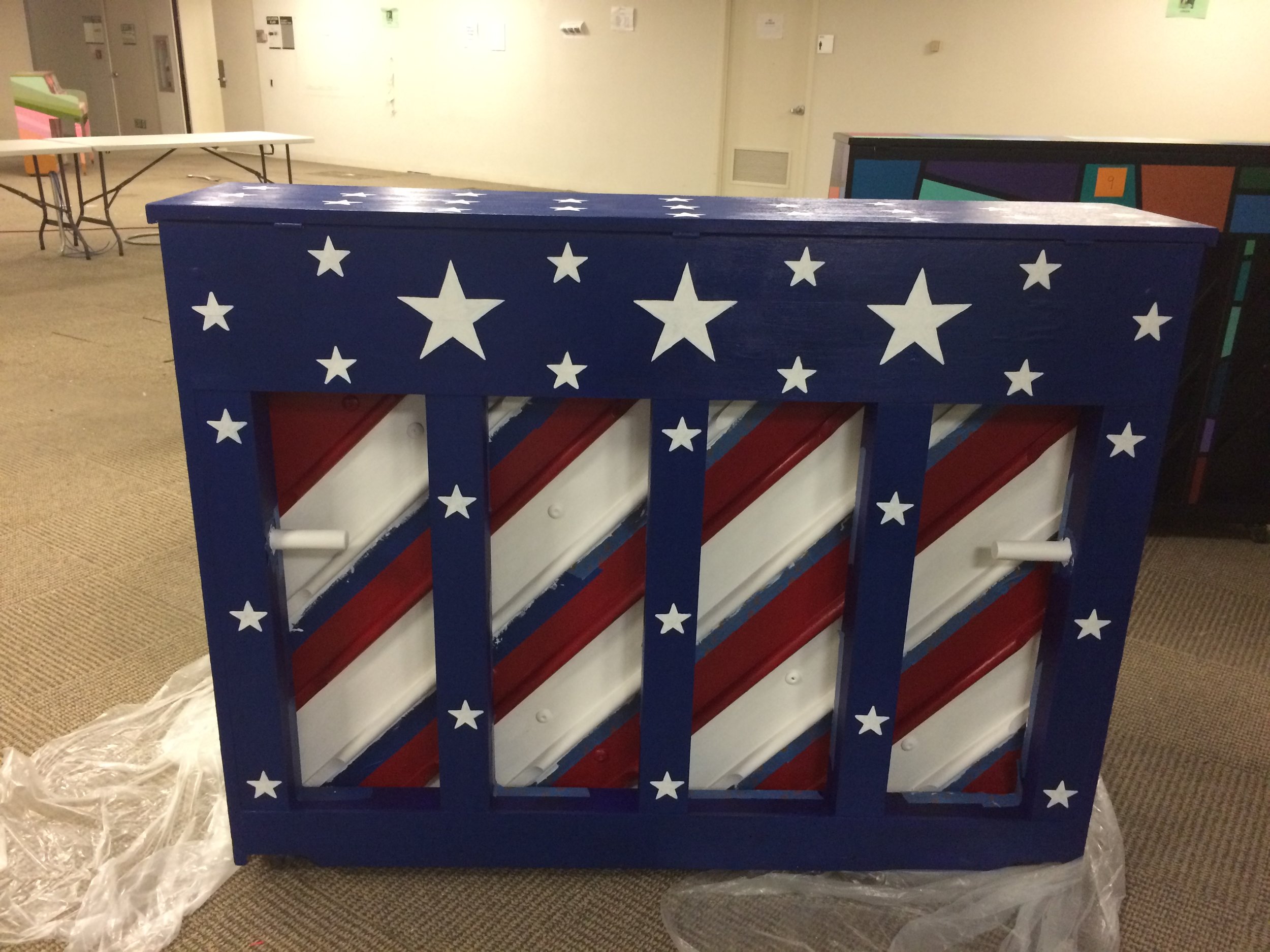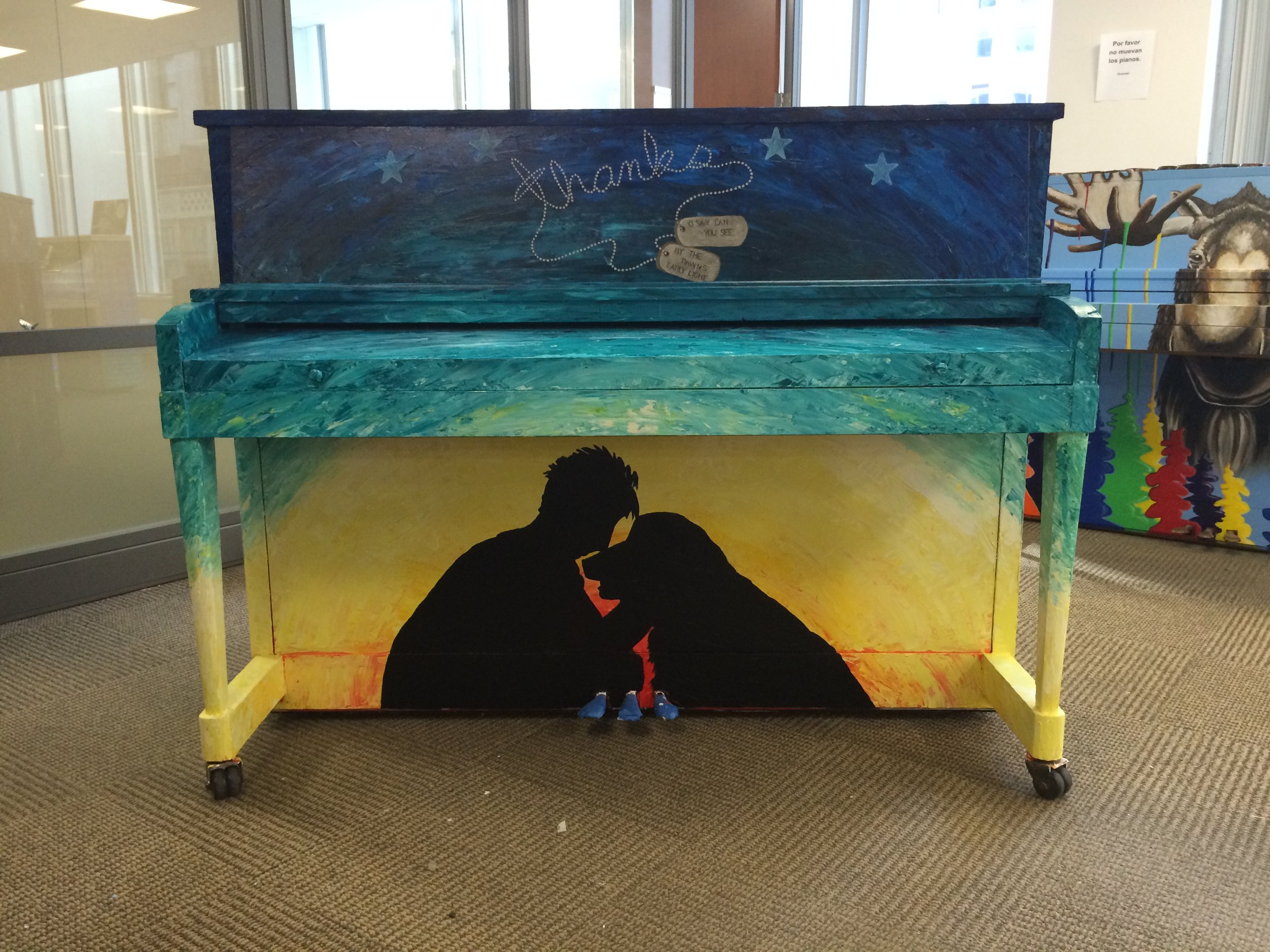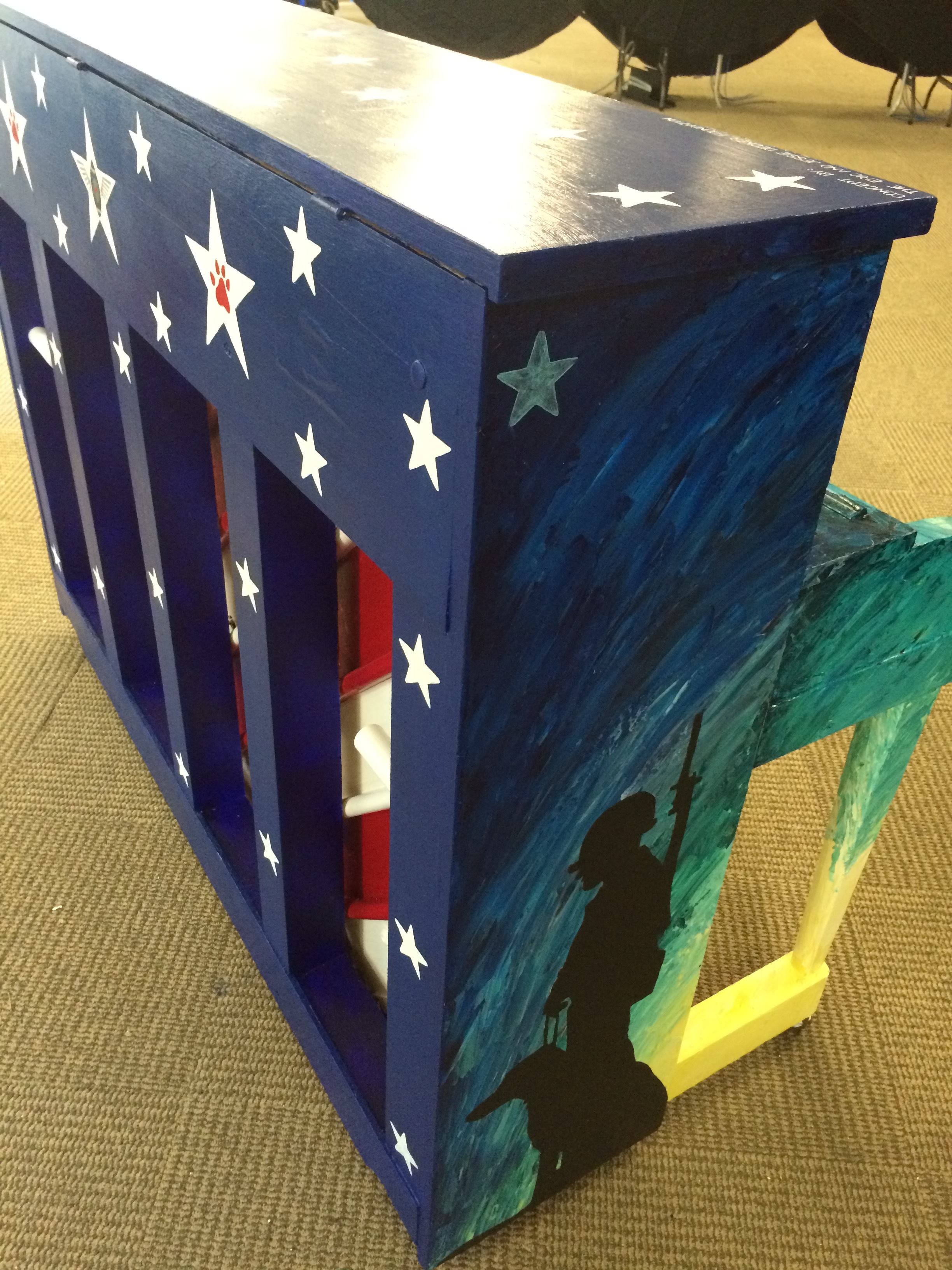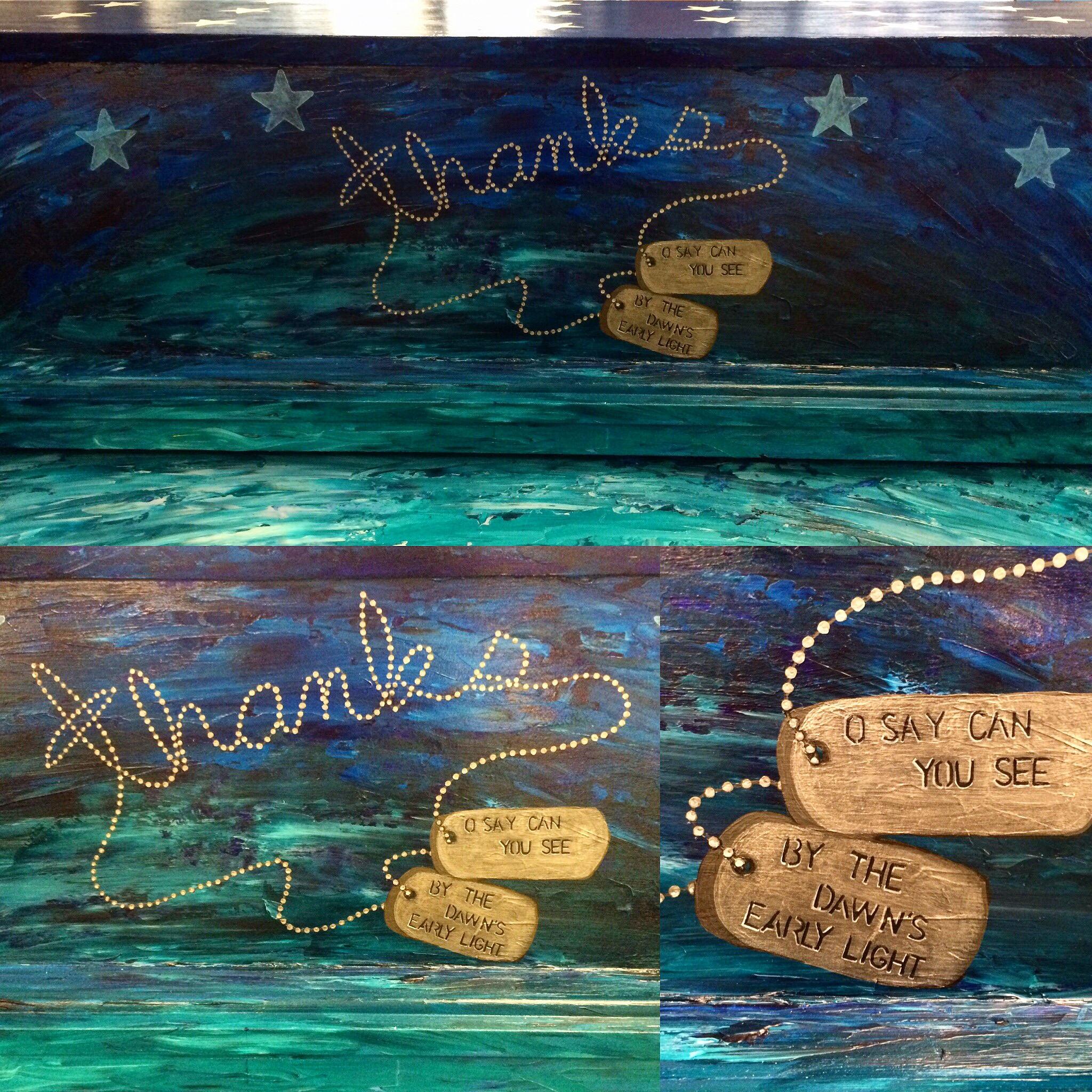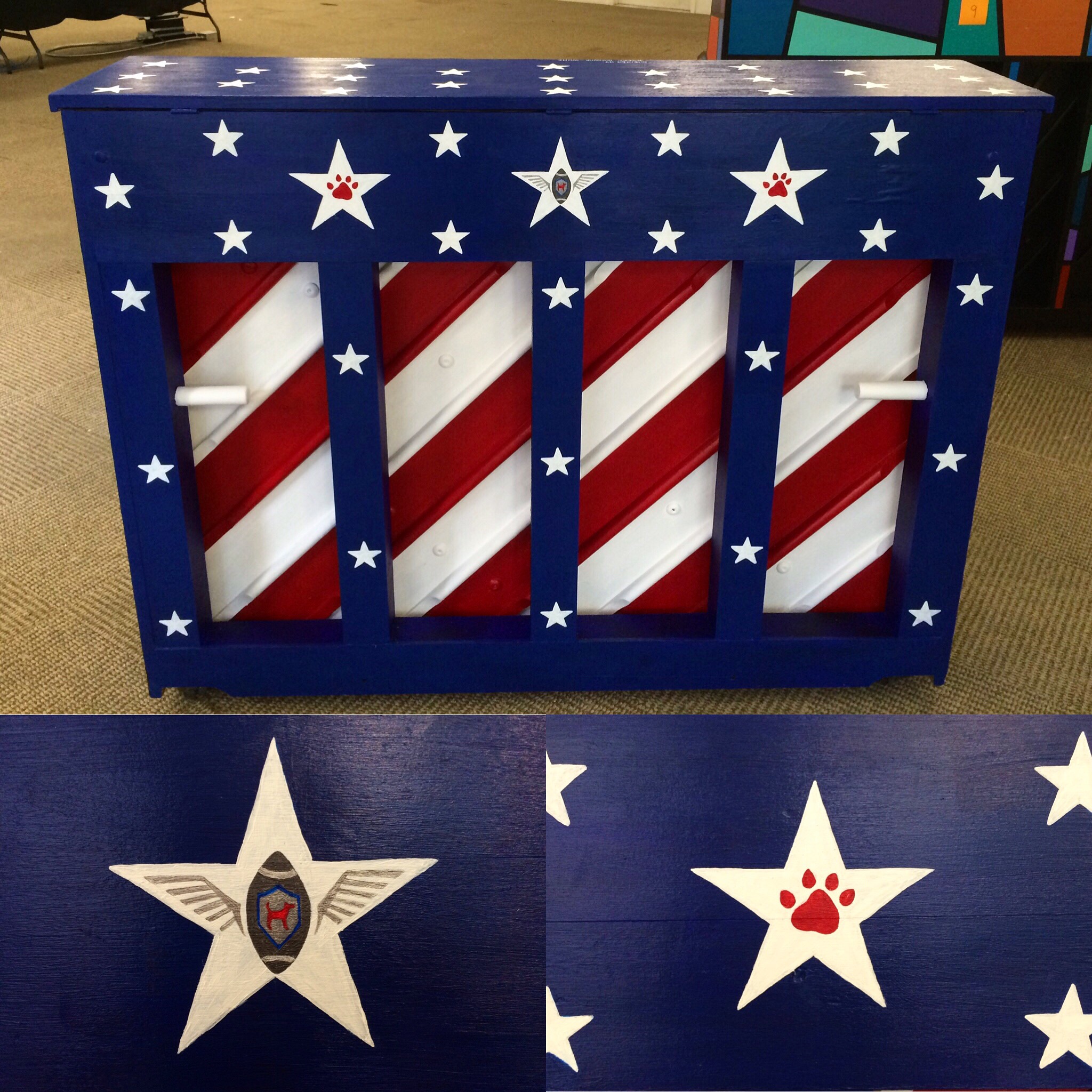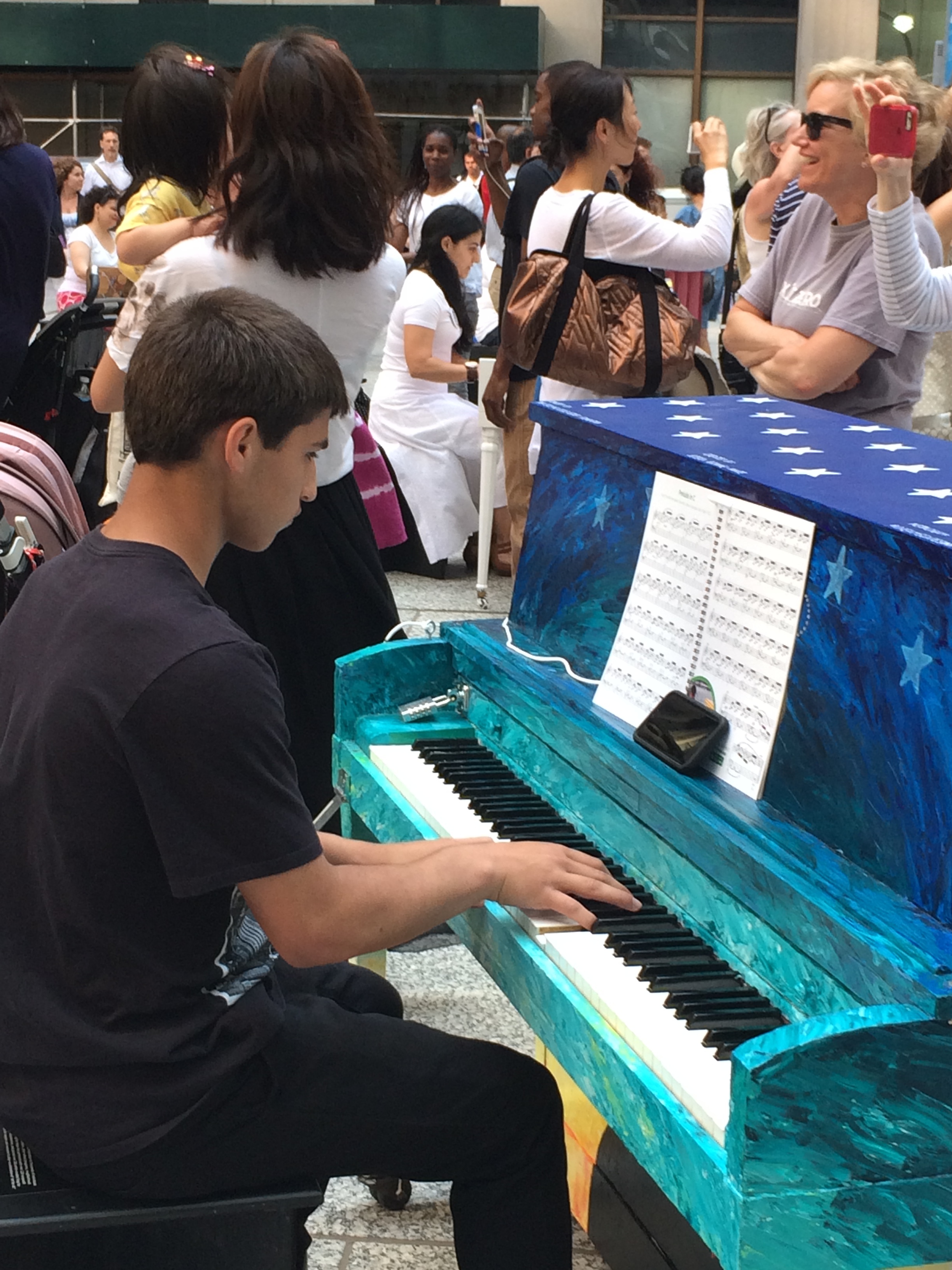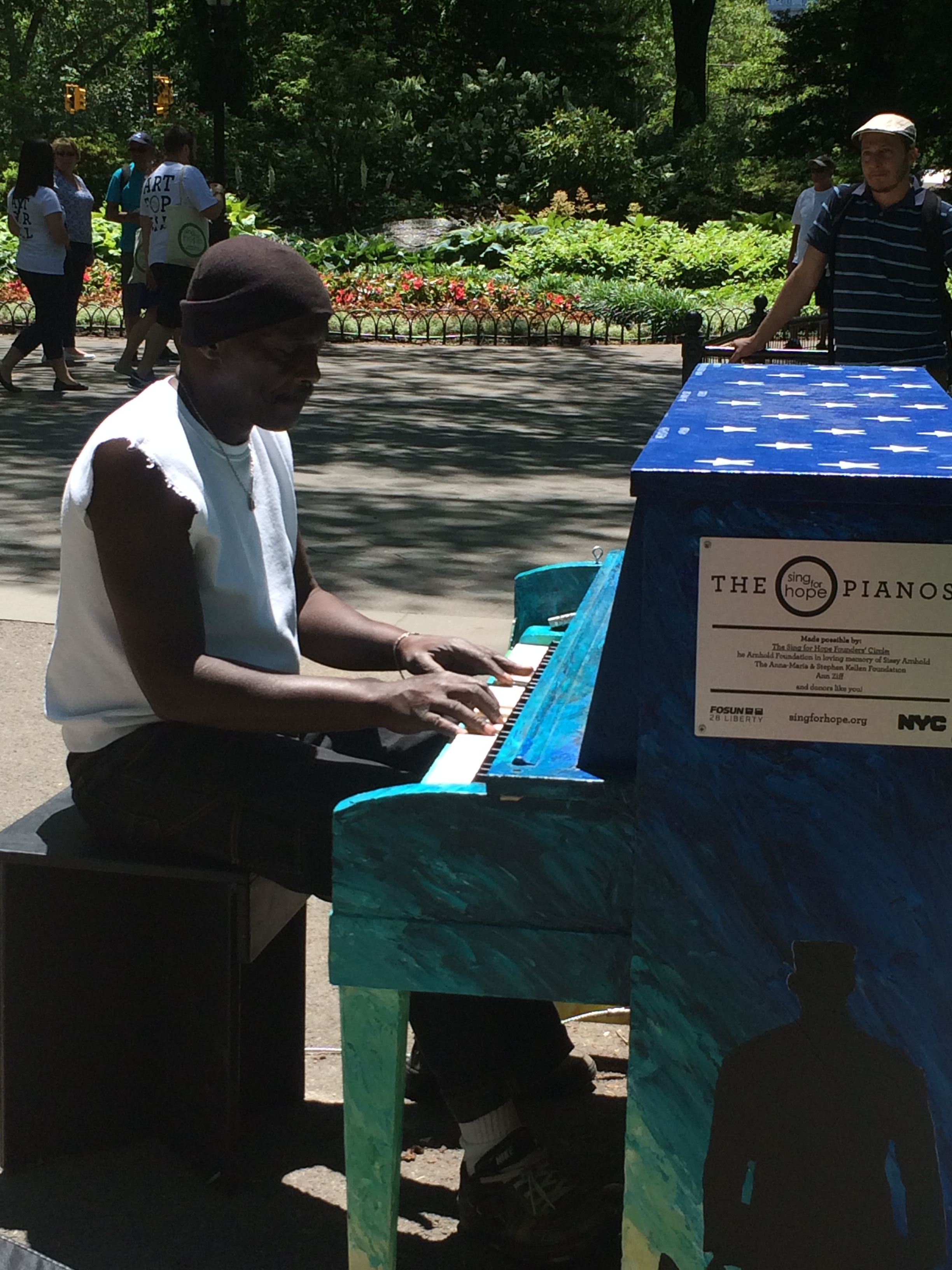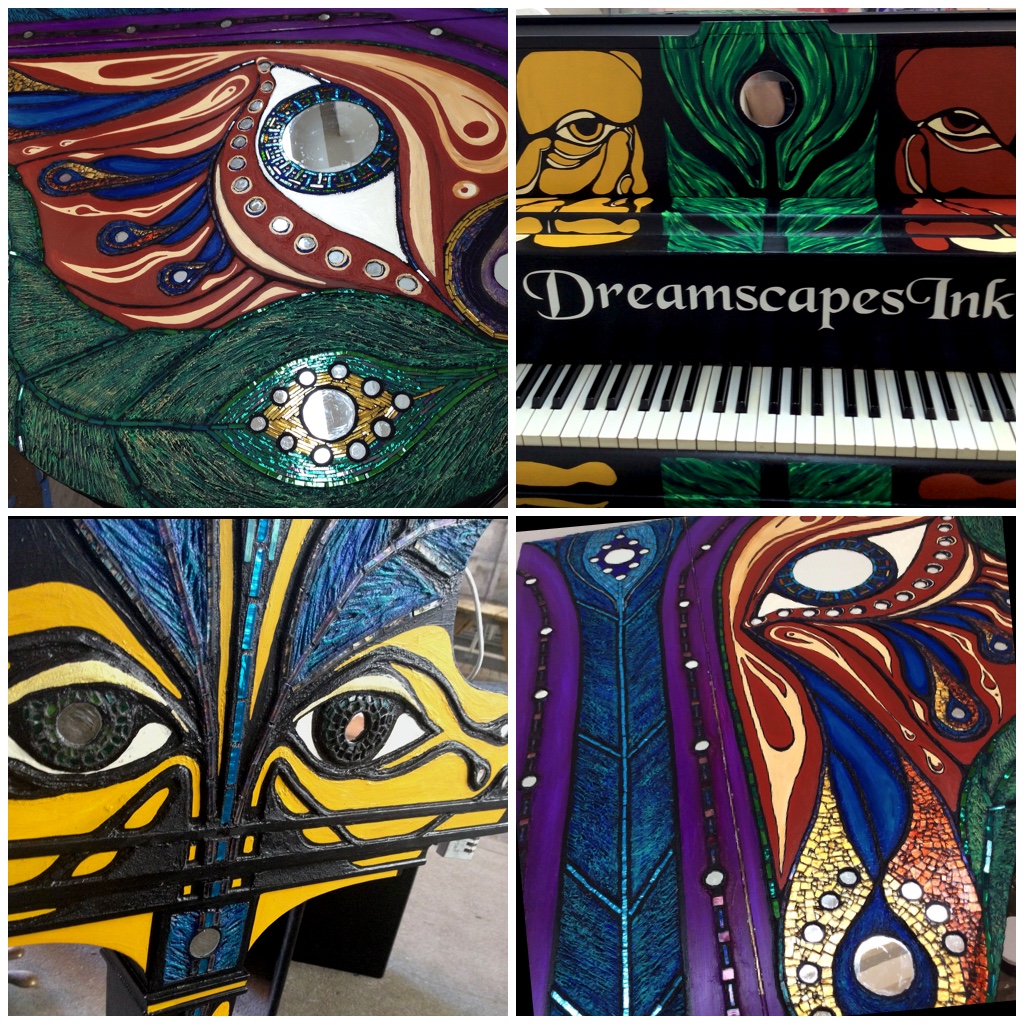 "Reflection/
Transformation"
2015 Sing for Hope Pianos
Reflection - The act of reflecting or the state of being reflected. Something, such as light, radiant heat, sound, or an image, that is reflected. Serious thinking or careful consideration.
Transformation - The act or an instance of transforming. The state of being transformed. A mapping of one space onto another or onto itself.
I was working on a series about dreams and visions, and my concept for this piano emerged from that. The design for this piano combines imagery and symbols of imagination, reinvention, vision, and reflection. Mirrors of different sizes are affixed in varying patterns around the piano. The mirrors become many things including the pupils of eyes, whole faces, and parts of peacock feather and butterfly wing patterning. Sculpted, textural elements and carefully laid glass add to the landscape of the piano. The entire design is a whirl of colorful abstracted faces, feathers, and other forms connected by fluid black lines. All of these images and shapes morph into and out of each other with pieces of the real world reflecting out of them and absorbing into them - a mix of the surreal and the mundane. You can get up really close and see yourself or catch fragments of the world behind and above you even as you sink into the world of the piano. People are constantly feeding off what we see, hear, and experience, and we reinvent ourselves in ways small and large in response. It is my hope that the piano will capture some of the fluidity, joy and strangeness of reflection and transformation: of seeing ourselves and our surroundings in another context.
My piano was located under the DUMBO Archway from June 5, 2015 - June 21, 2015. A big thank you to the DUMBO BID for taking such good care of the piano and for arranging so many wonderful events with and around it. Special thanks also go out to all the Sing for Hope staff and interns, my fellow piano artists, and to everyone who contributed to my Indiegogo campaign. I could not have made the piano without you. Thank you!
UPDATE: Reflection/Transformation has found it's forever home! It is now residing in NYU's Hospital for Joint Diseases in the Rusk Rehabilitation Unit.
Here is the evolution, in pictures, of my 2015 Sing for Hope Piano "Reflection/Transformation" from concept sketch to it's life on the streets: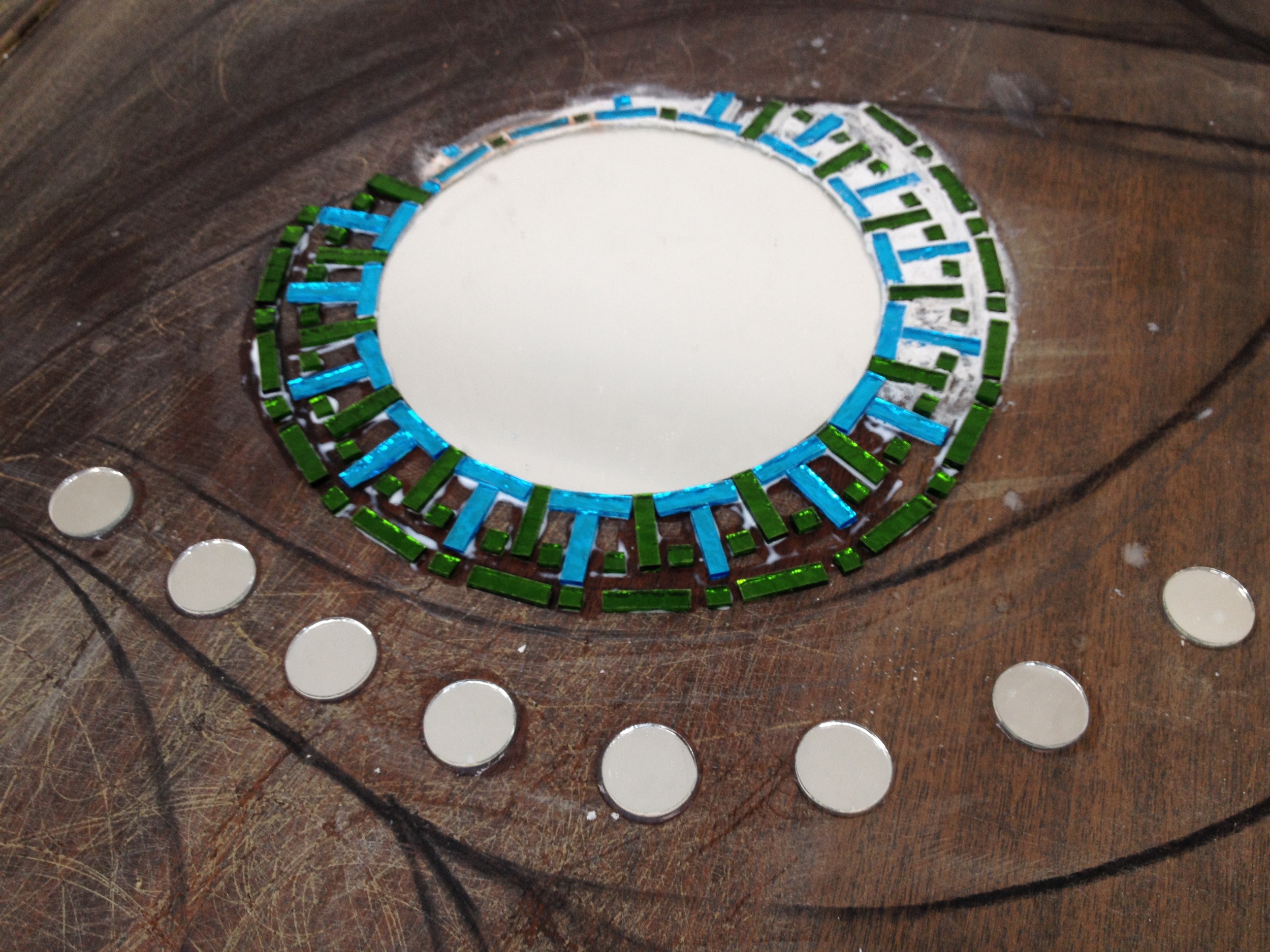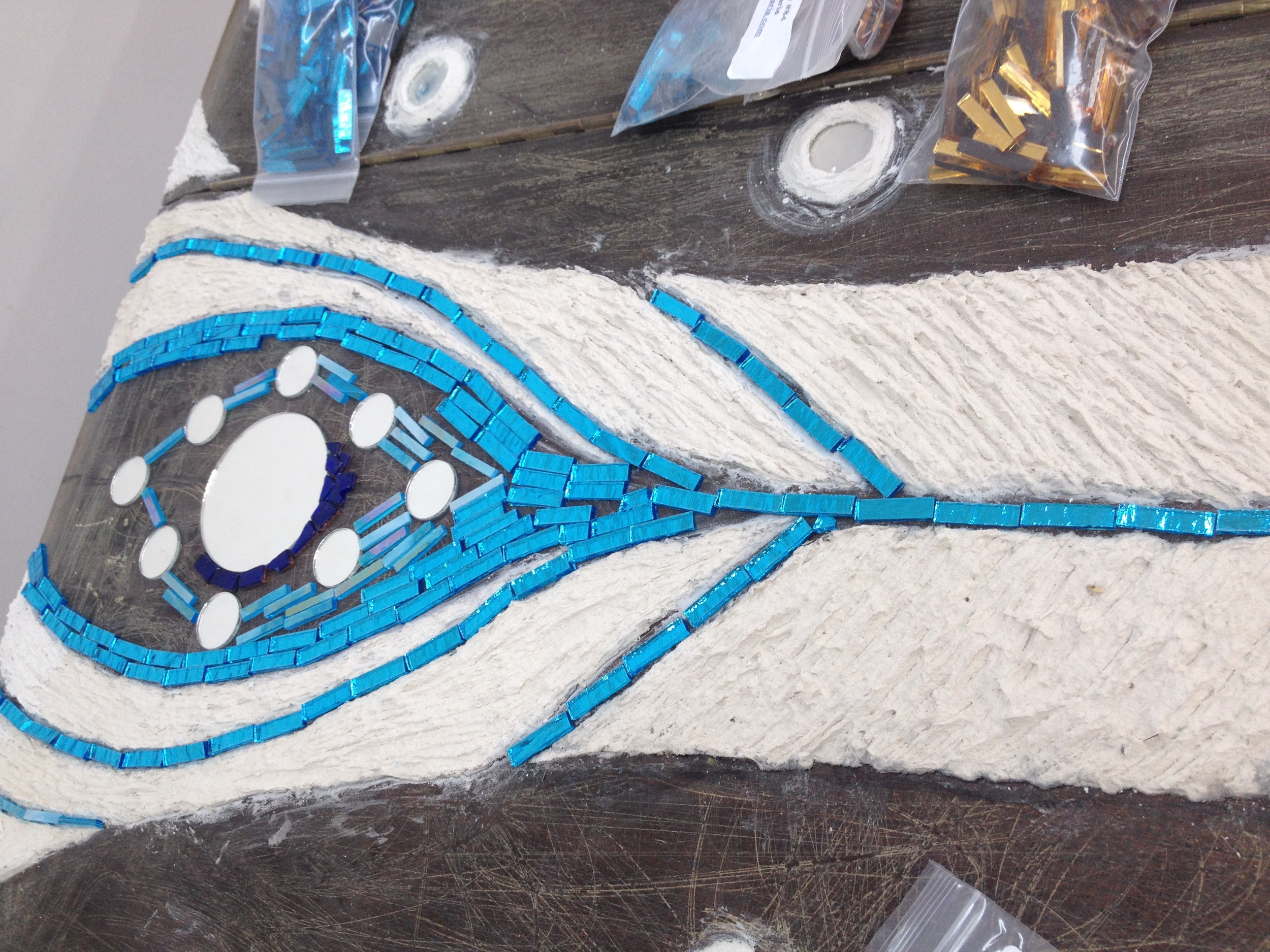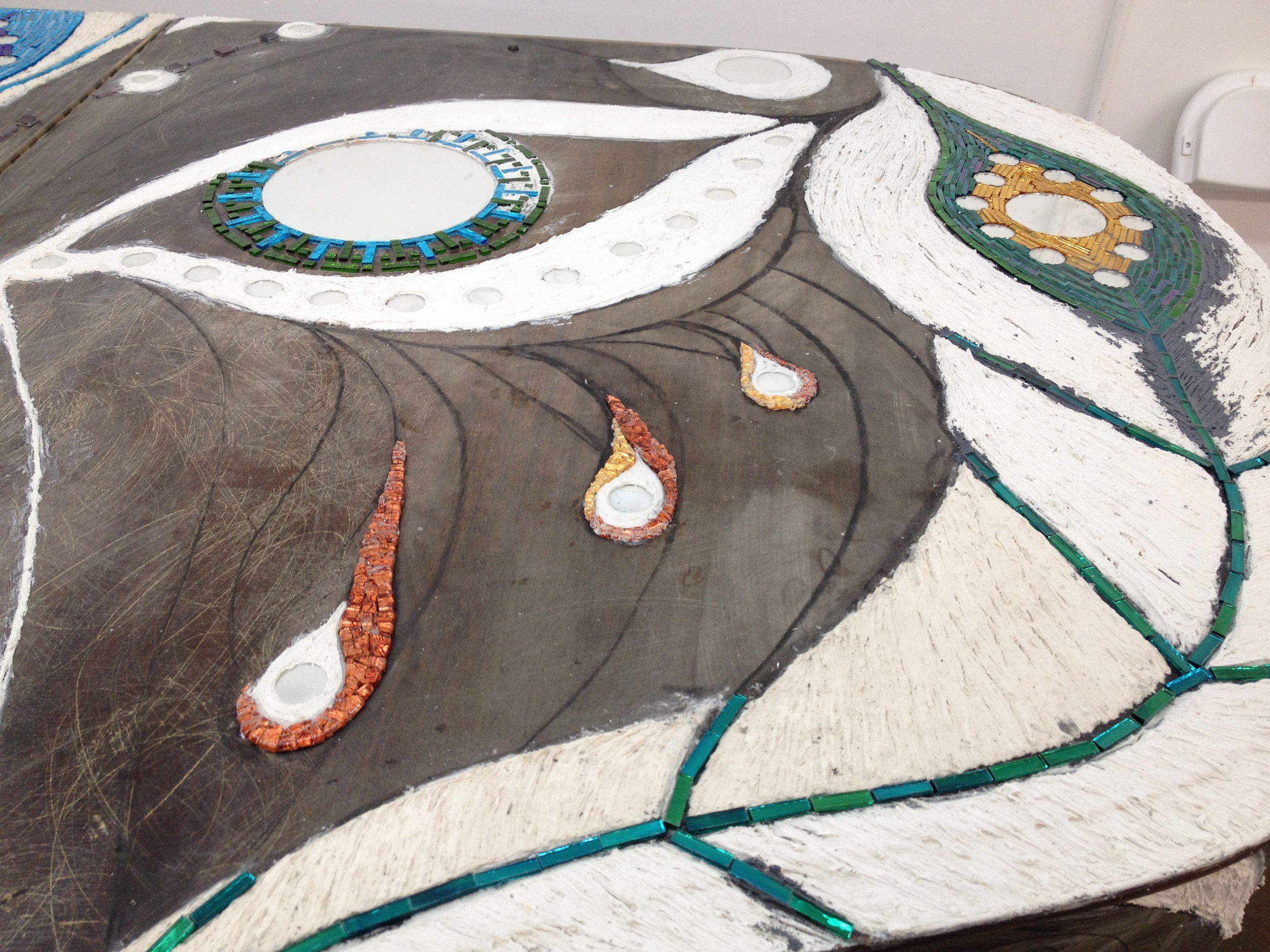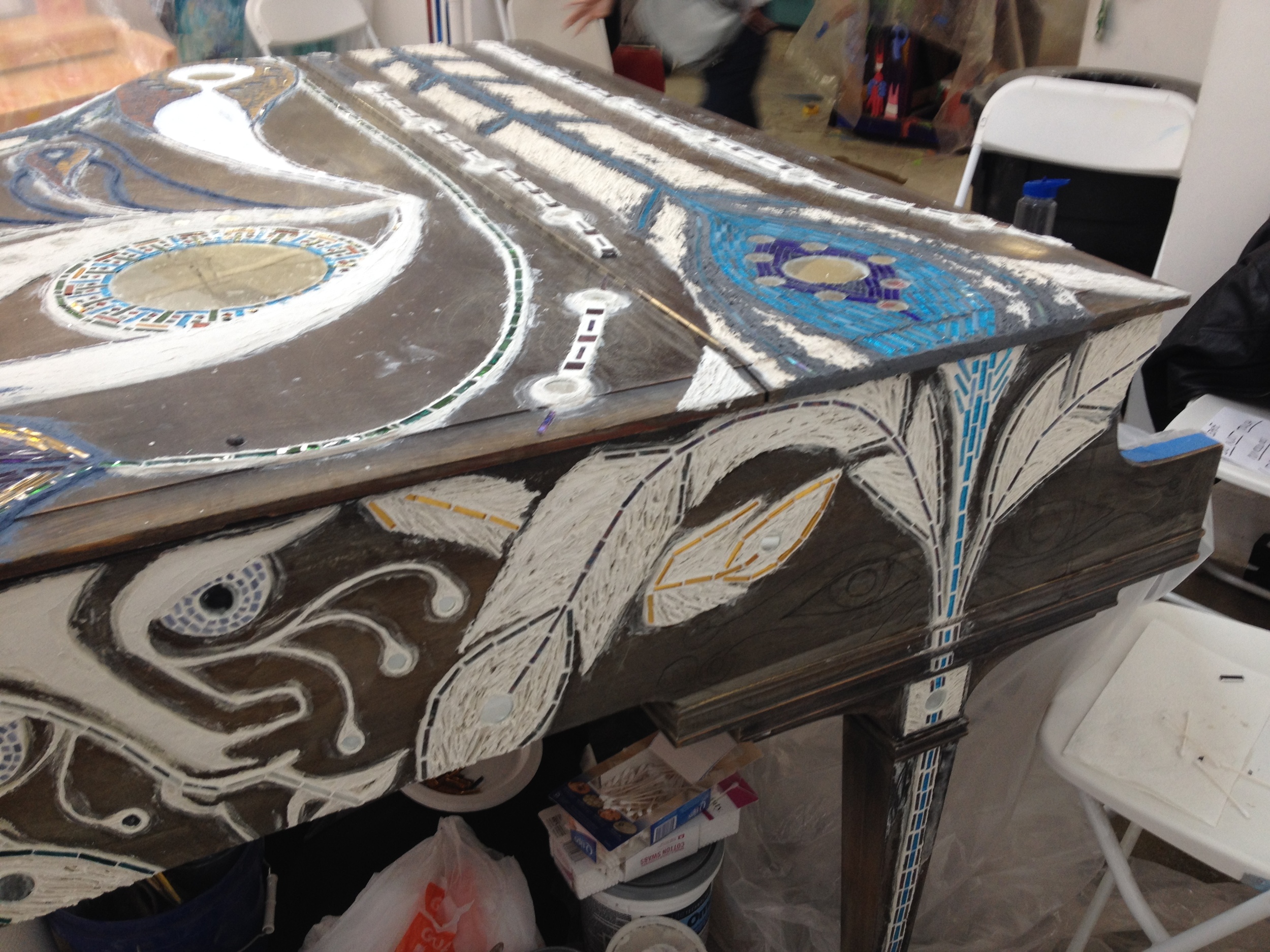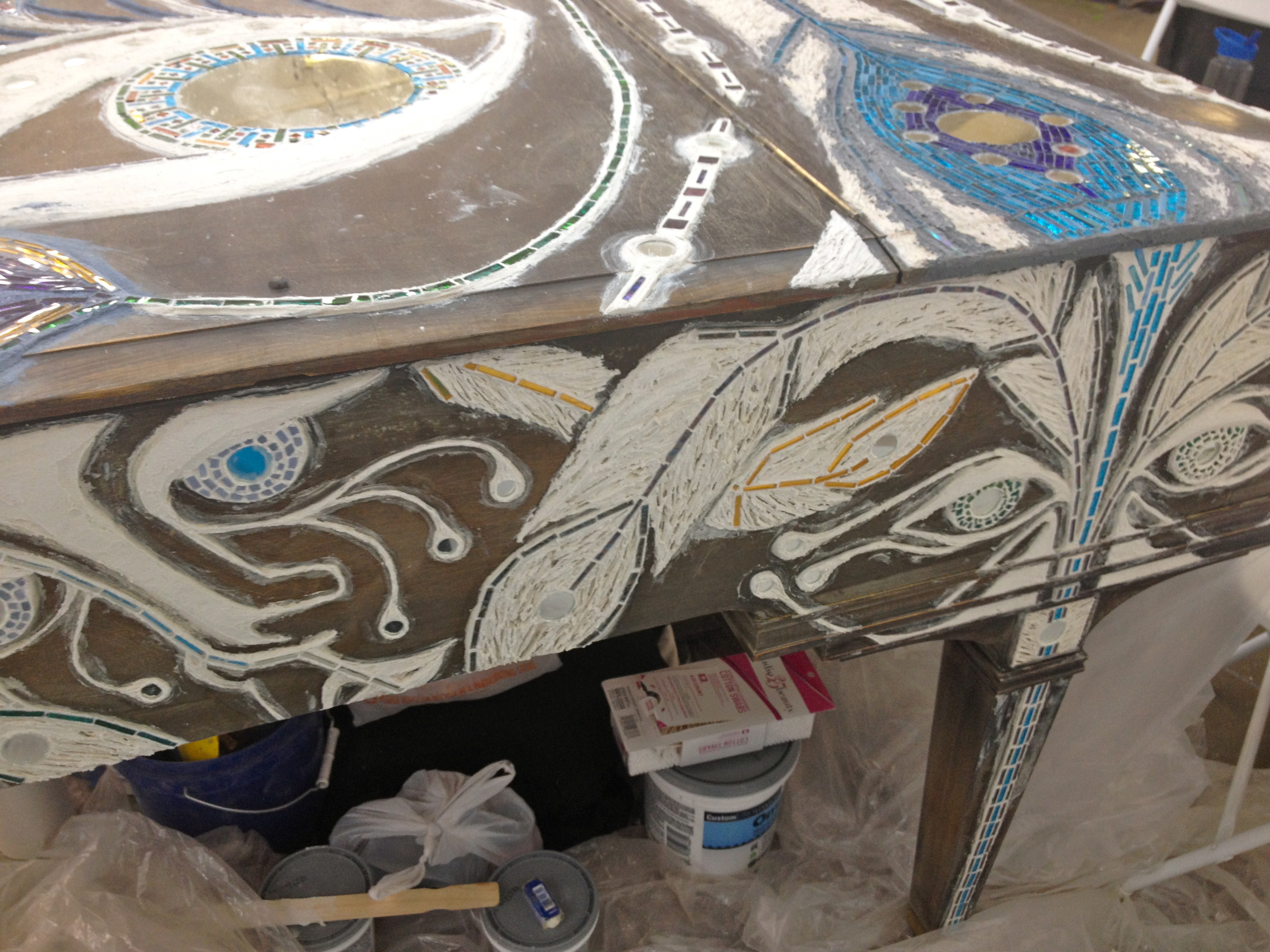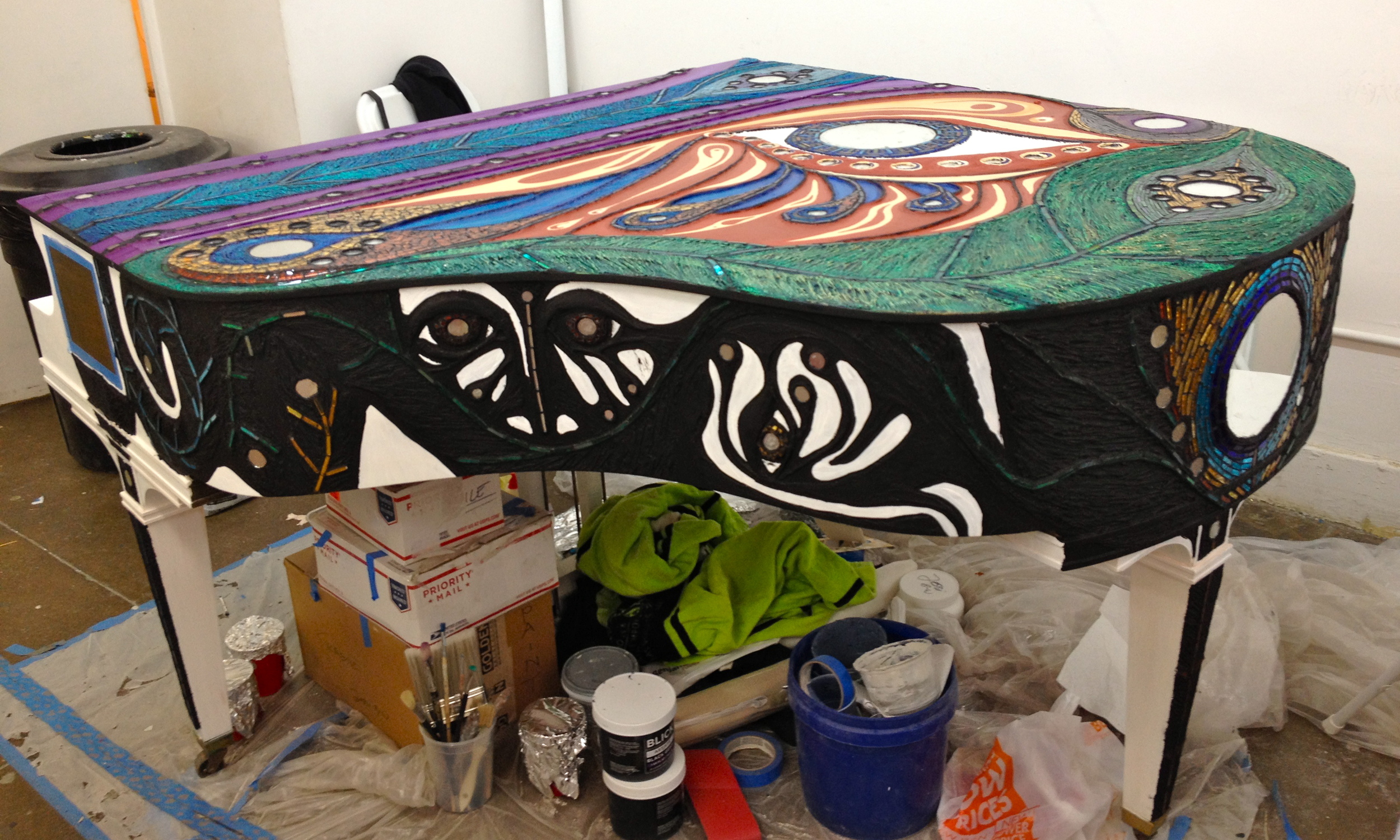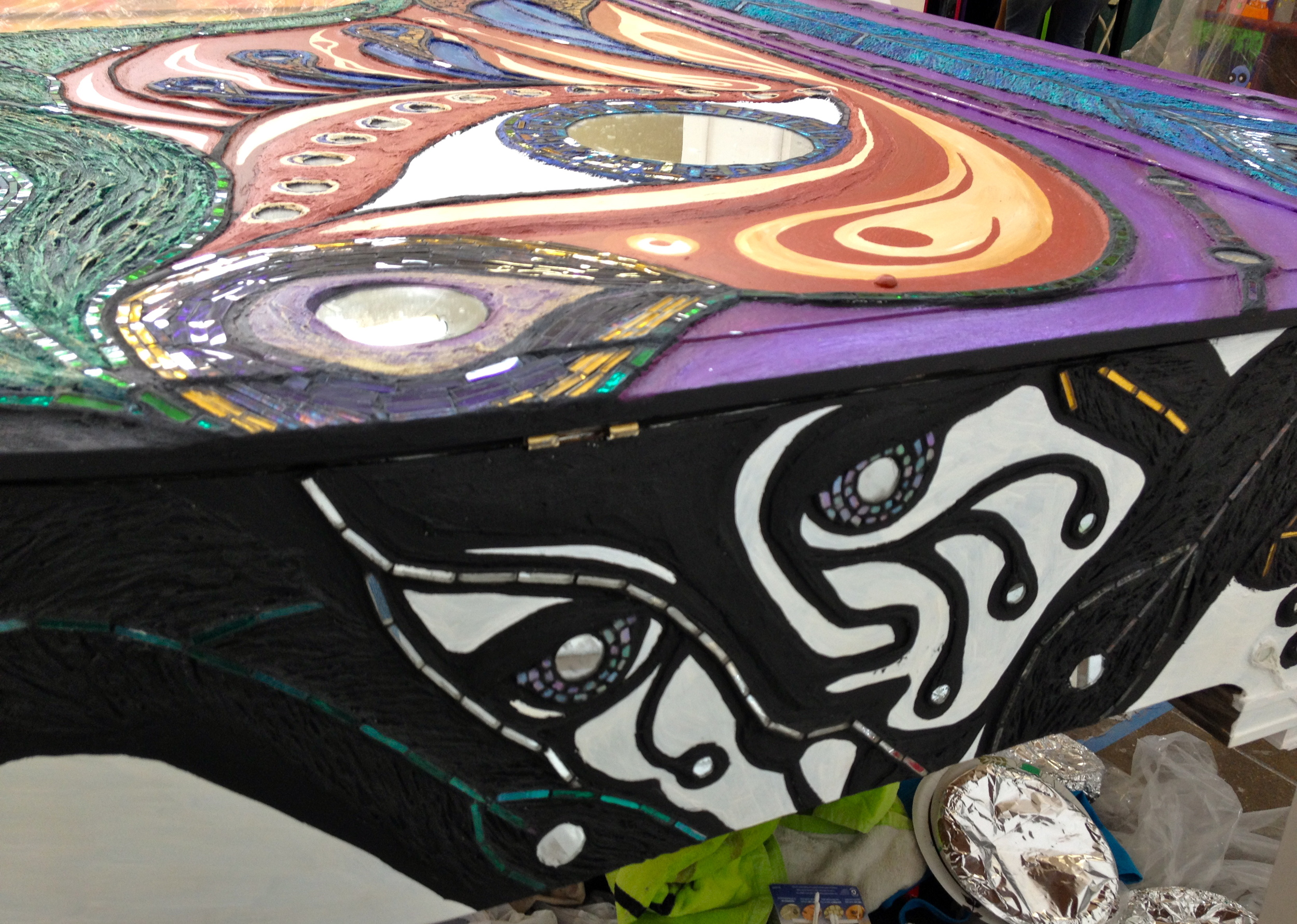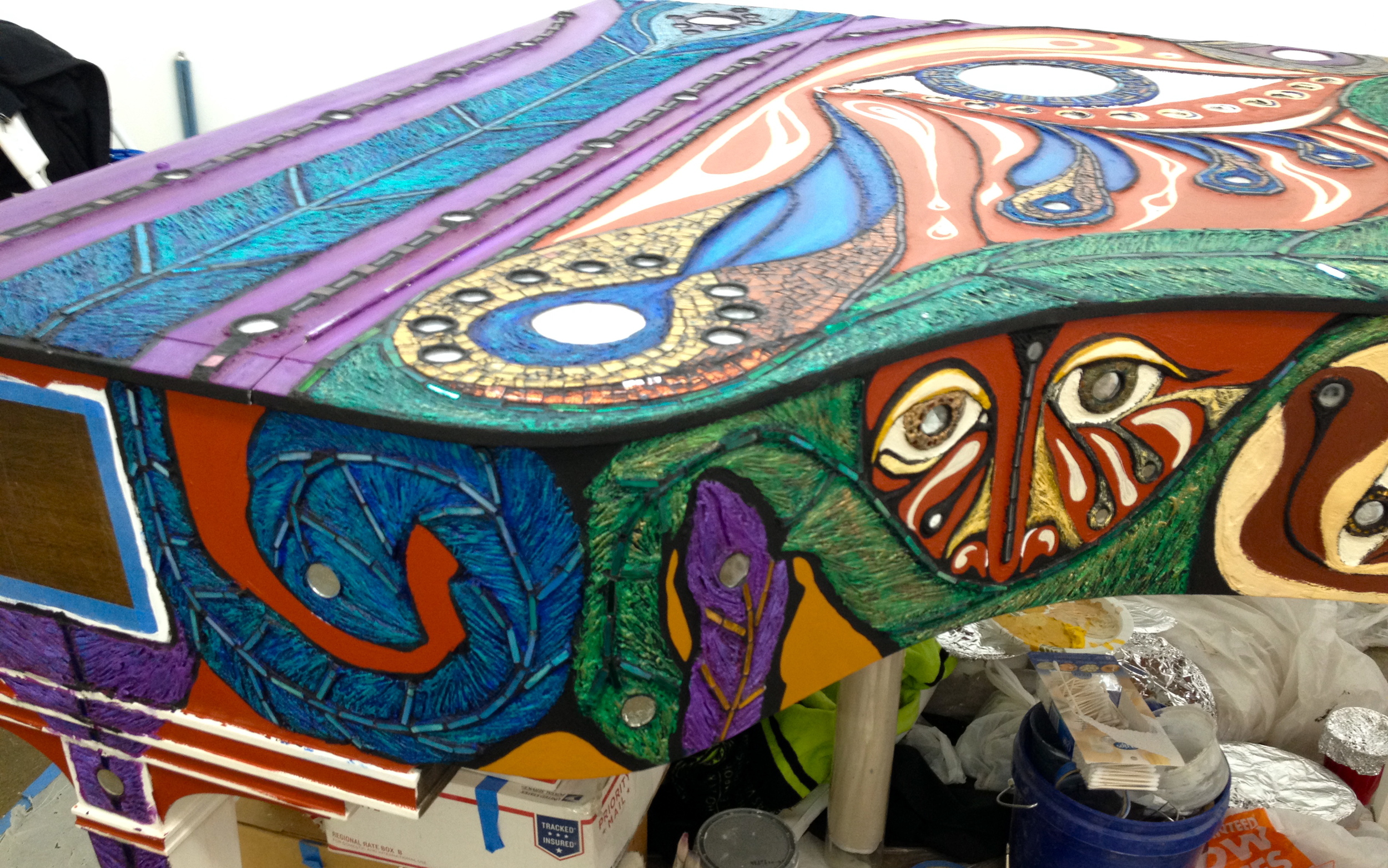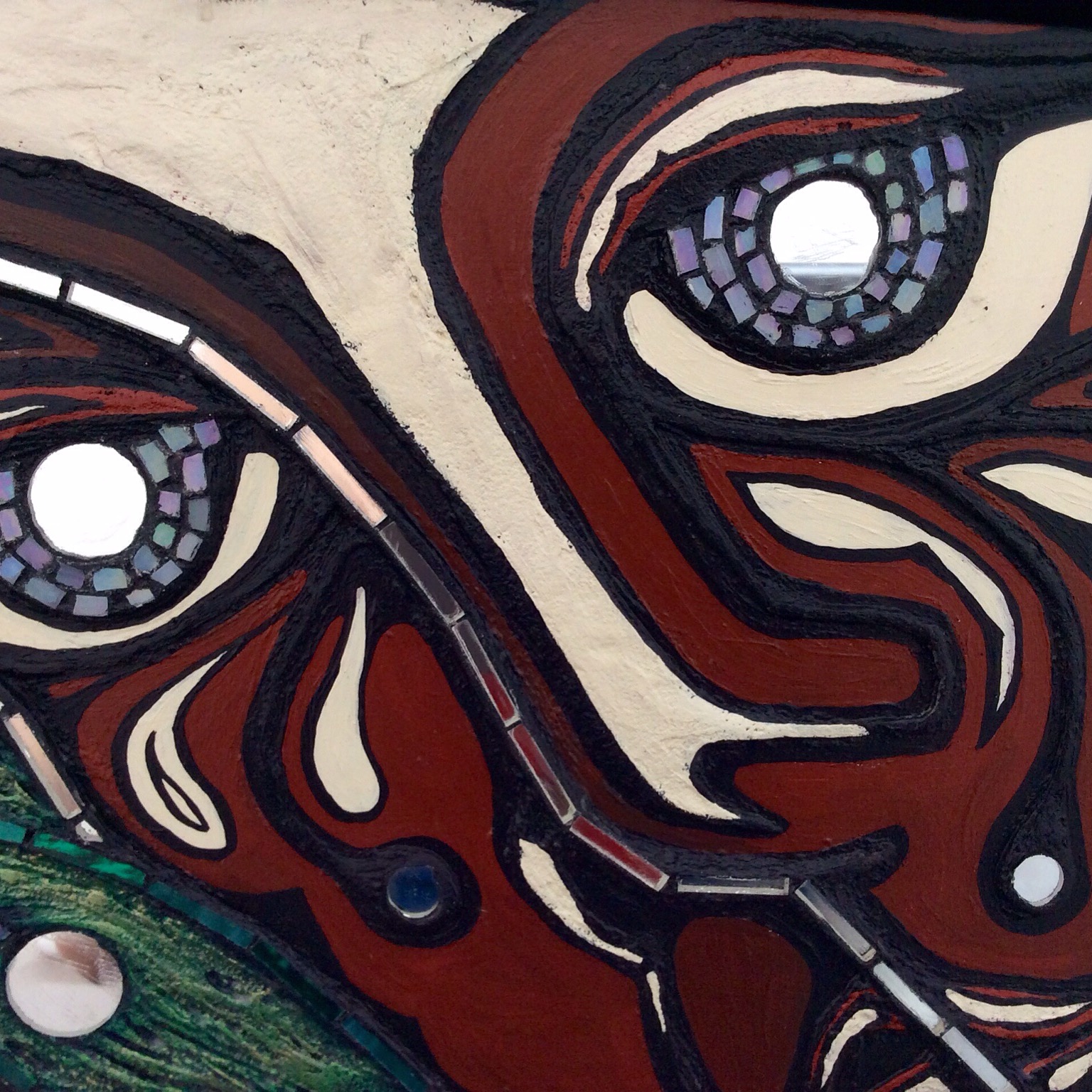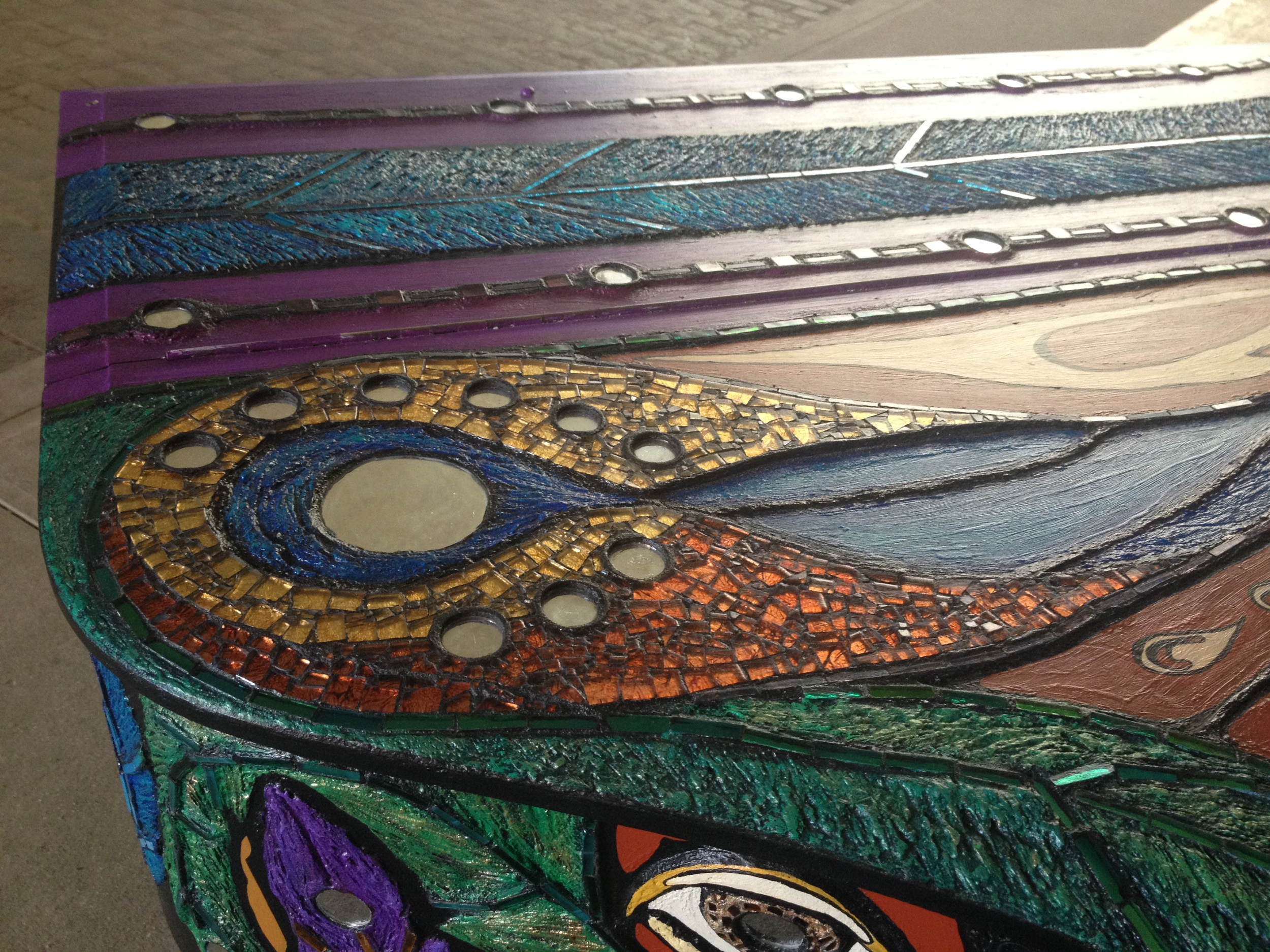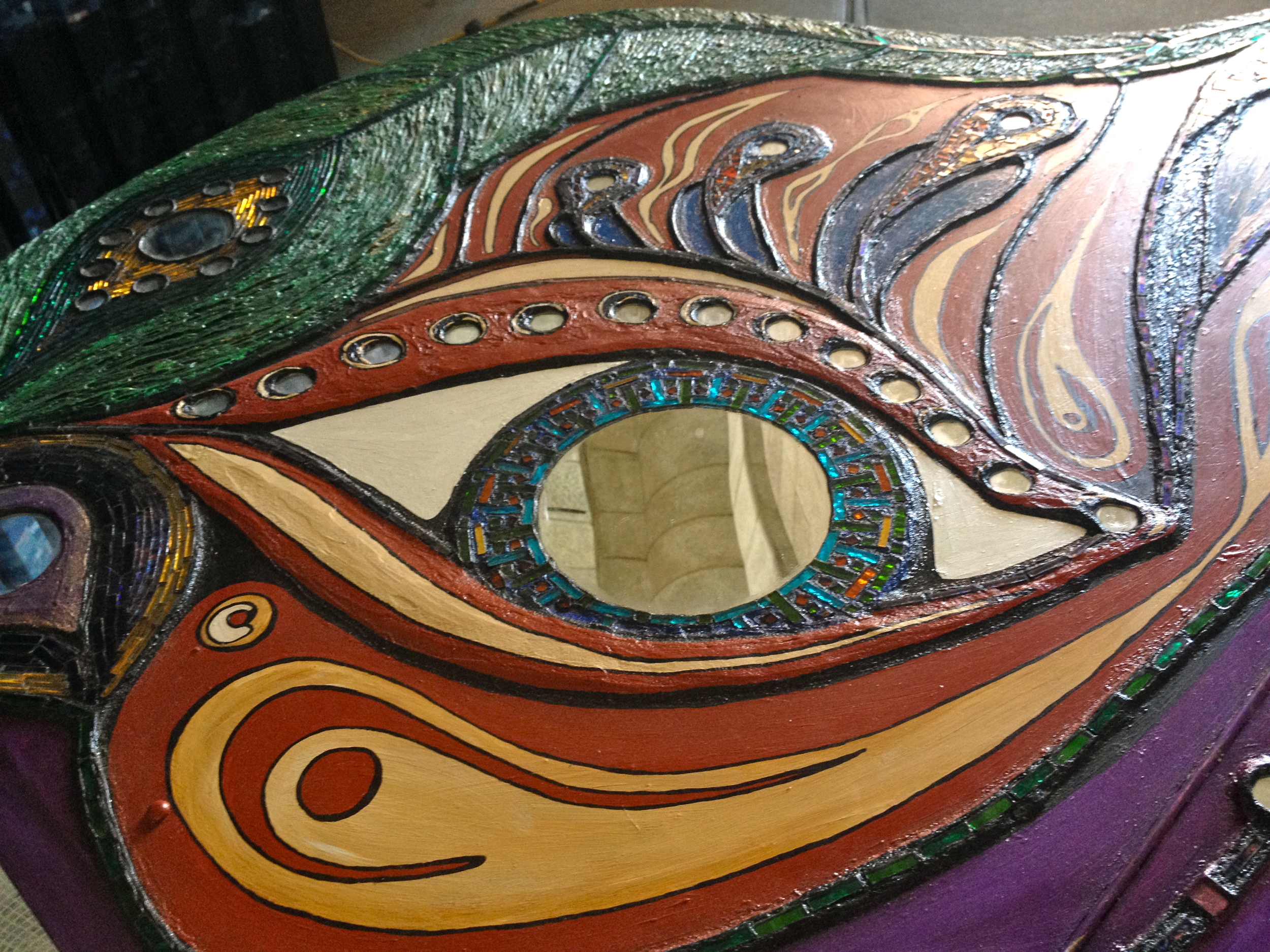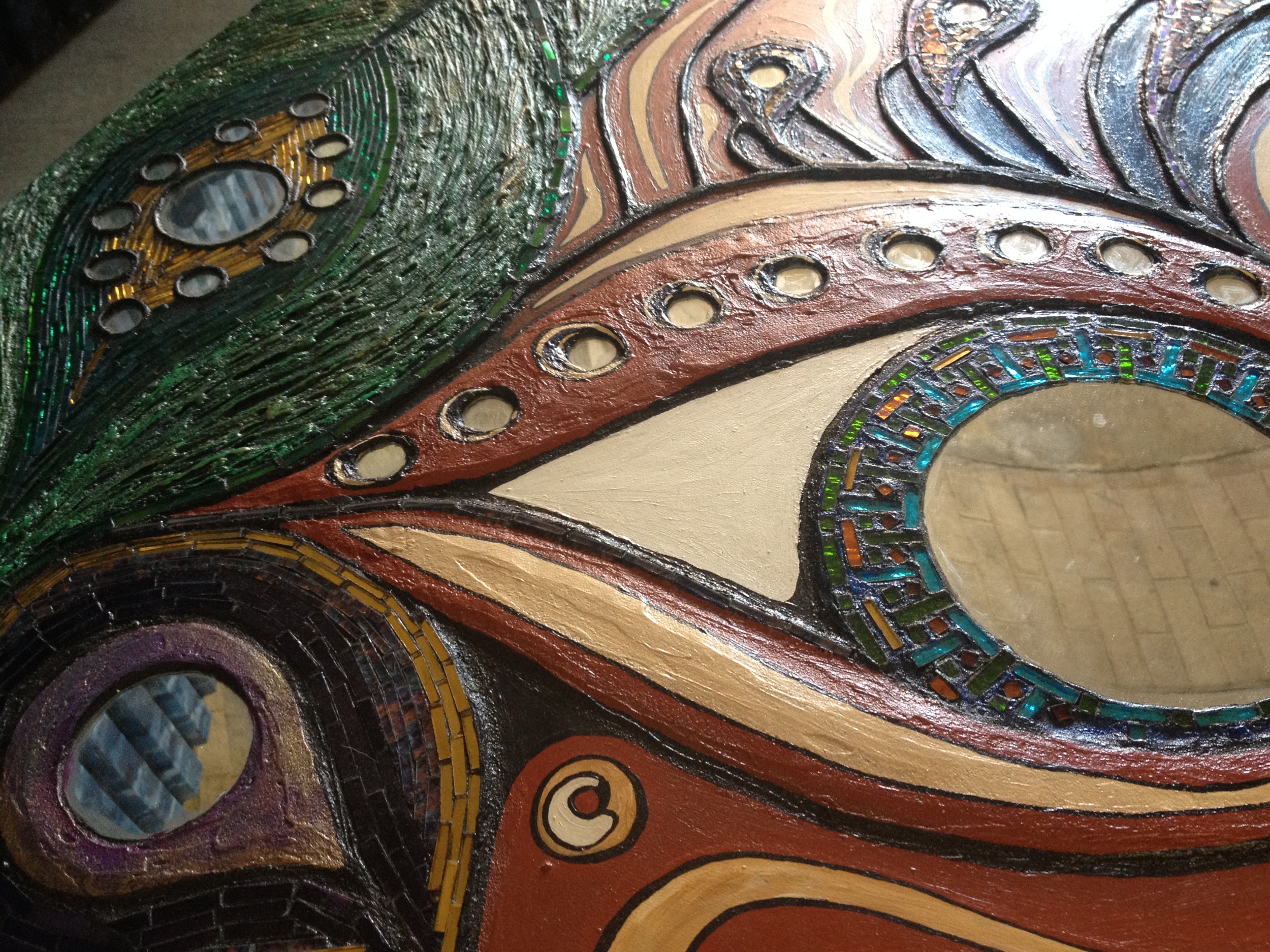 In late 2013 and early 2014 I had the priviledge and pleasure to work with 11 students from Sing for Hope's arts education classes to create a New York themed piano for display at the 2014 Super Bowl! The NFL had requested a New York themed piano so I had each of the students tell me what their favorite part of NYC was and why. Using source images of the places they chose, they designed (singly & in teams) compositions of those places, transferred them to the sides of the piano & painted them (most of them in under 4 hours). I connected all of their pieces with silhouettes I added of people going about their lives. The NY masses! People watching was an activity mentioned by a good half of the students and, as it's one of my favorite activities, it seemed appropriate to have the piano crawling with people.
I designed and painted the composition on the top and front of the piano depicting Times Square. Since all of the students were such rock stars, I decided they all needed to have their faces on billboards in Times Square - or at least on my piano version of Times Square. So I painted all of their portraits on the top of the piano. I painted 13 portraits in TWO DAYS! That's a personal record for me.
Here are images of the piano in the studio where we worked on it. Images here are a mixture of my work and the students work.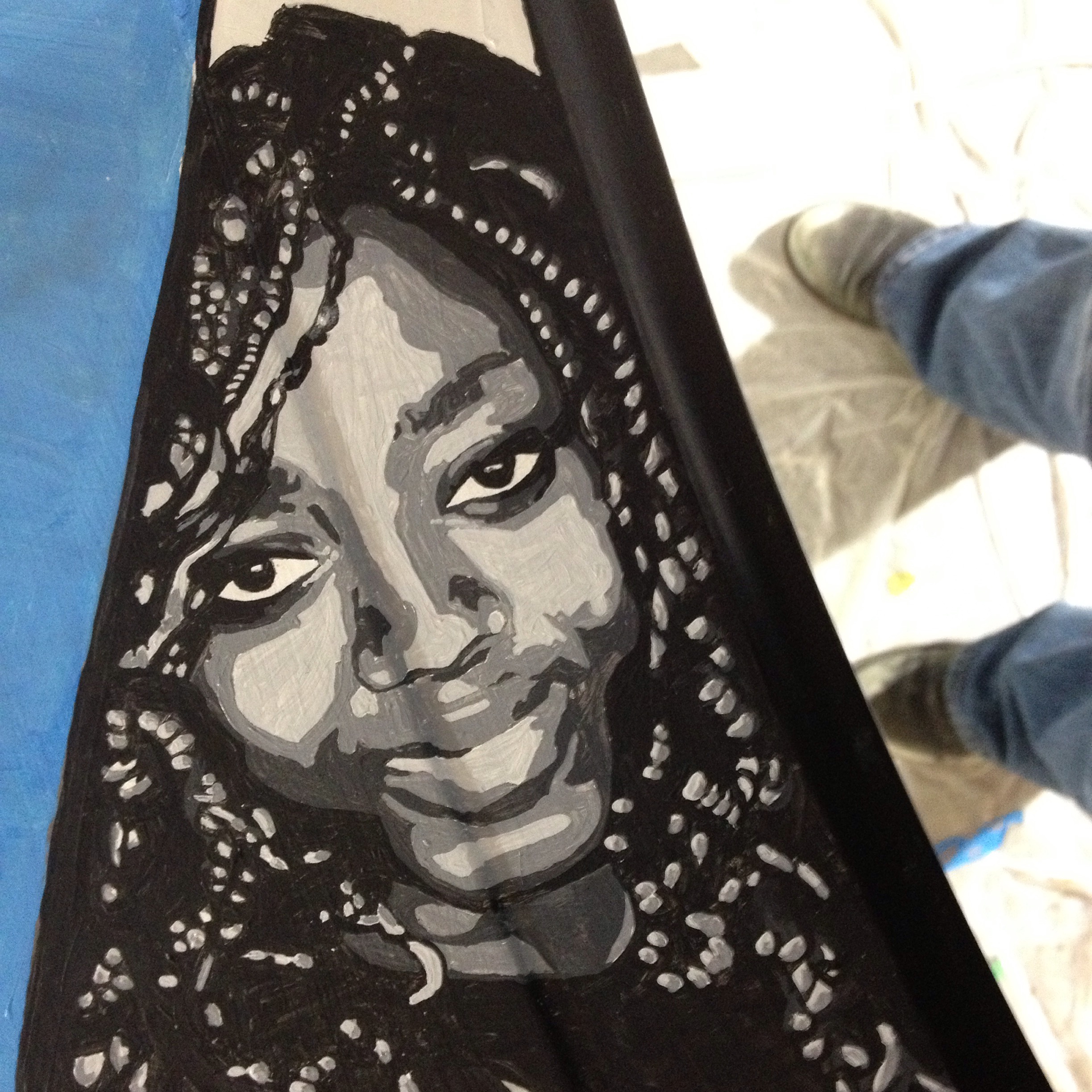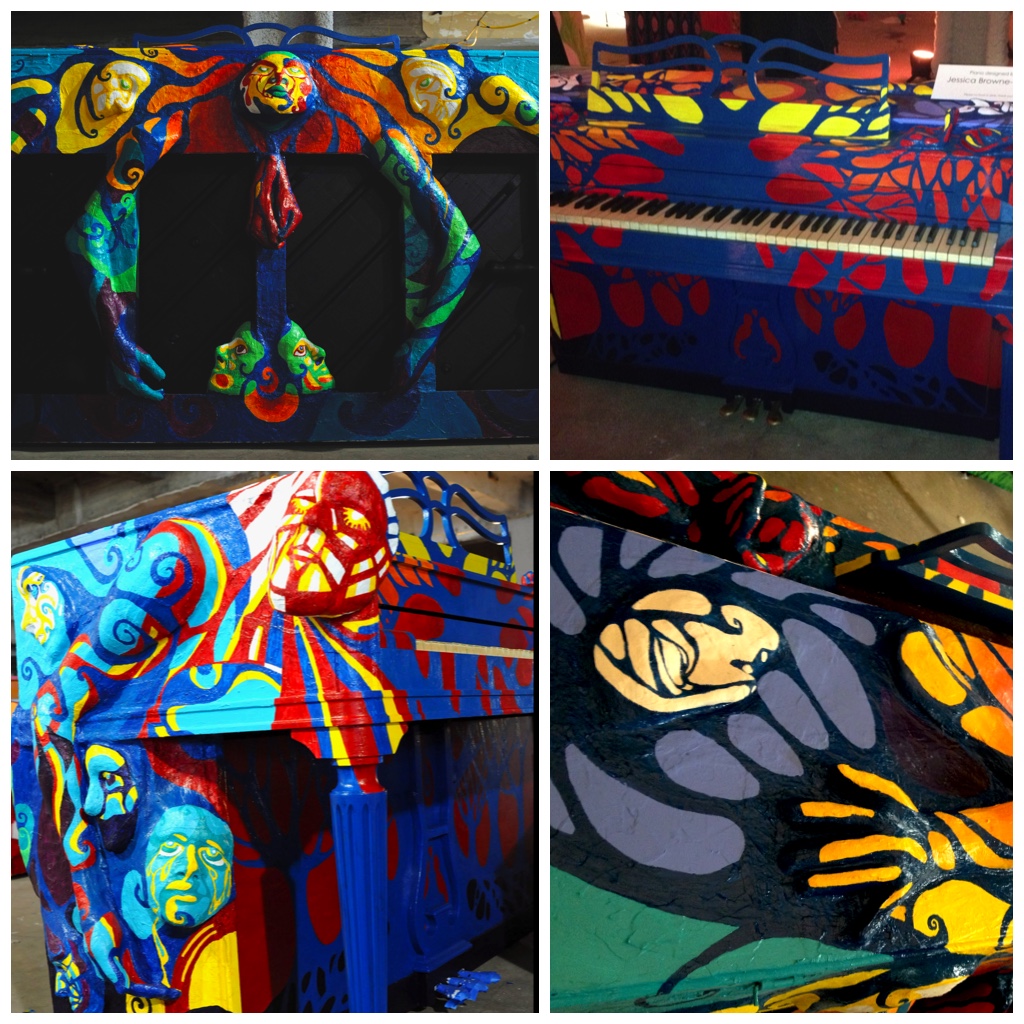 2013 Sing for Hope Pianos
"What Dreams May Come" was my first Sing for Hope Piano. I envisioned a piano covered in intertwined faces and bodies with hints of a fantastical landscape behind, in, and through it. To create it, I cast the faces and limbs of adults and children from all over NYC using plaster bandages and attached the casts to the piano. I then created additional texture with super heavy gesso. The piano was then painted with acrylics - connected throughout by the deep-blue line work that became tree branches, waves, flares of sunshine, and swirling winds, winding through this dreamscape.
The piano was installed at Herald's Square and Lincoln Center in June of 2013. See the slideshow below for process and on the street pics.